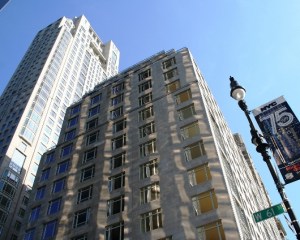 Another one of the most coveted trophy apartments in Manhattan has sold, leaving only three more penthouse units at 15 Central Park West up for grabs–one of which is on the market for nearly three times the price it sold for two months earlier.
A 43rd-floor penthouse has sold for $21.5 million to a buyer listed as 15 CPW Real Estate Holdings LLC, city records show. LLCs have bought five of the six penthouse units sold in the building so far, but in this case the true identity of the new occupant, hidden beneath layers of lawyers, is anyone's guess.
Whoever the mysterious titan is, neighbors will include Sandy and Joan Weil, who paid $42.4 million for PH 20 and caustic hedge-funder Daniel Loeb, who paid $45 million for PH 39.
A few floors below, another penthouse on the 40th-floor has been on the market for a reported $80 million since early July, $58.5 million more than a buyer listed as "Prominence Corp." paid for the four-bedroom condo two months earlier.