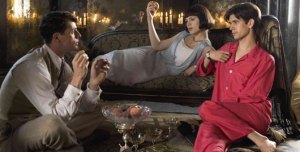 BRIDESHEAD REVISITED
RUNNING TIME 135 minutes
WRITTEN BY Jeremy Brock and Andrew Davies
DIRECTED BY Julian Jarrold
STARRING Matthew Goode, Ben Whishaw, Emma Thompson, Hayley Atwell, Greta Scacchi, Michael Gambon
Julian Jarrold's Brideshead Revisited, from a screenplay by Jeremy Brock and Andrew Davies, is based on the seductively class-ridden novel by Evelyn Waugh. This literary masterpiece has, strangely, never been made into a movie, though it was the source of a popular 12-hour television miniseries that aired in 1981, with Jeremy Irons, Anthony Andrews and Diana Quick in the lead roles now assigned to British newcomers Matthew Goode, Ben Whishaw and Hayley Atwell.
Mr. Goode plays Charles Ryder, a middle-class Oxford history student and aspiring painter, who falls in with a posh crowd after being befriended by Mr. Whishaw's mercurial Sebastian Flyte, a member of an aristocratic and devoutly Catholic family whose heavy drinking is driven by his guilt over his homosexual desires. As for Charles, the final stage of his succumbing to the lure of upper-class life occurs during summer vacation, when he is urgently summoned from his family's humdrum home in London by the slightly injured Sebastian to Brideshead, the Flyte family castle presided over by Emma Thompson's Lady Marchmain, the enforcer of the family's rigid Catholic beliefs. These have driven Sebastian to drink, and Michael Gambon's Lord Marchmain into an adulterous Venetian sojourn with Greta Scacchi's complaisant Cara.
It is at the railway station for Brideshead that Charles first encounters Sebastian's younger sister, Julia, and is immediately smitten by her, much to Sebastian's jealous concern. When it is time for Sebastian and Julia to visit their father in Venice, Lady Marchmain arranges for Charles to accompany them so that he can keep an eye on Sebastian. For a time Sebastian is happy to be with his beloved father, with whom he shares a loathing for Lady Marchmain's extreme religiosity. But when Sebastian sees Charles kiss Julia during a wild nightmare festival celebration, he sadly realizes that he has lost Charles as a "friend" forever.
Much of the novel's narrative was inspired by Waugh's own experience at Oxford as a middle-class student from an unfashionable London prep school. Curiously, Waugh (1903-1966) had converted to Catholicism in 1930, 14 years before he wrote Brideshead Revisited, while he was on leave from the Army on the eve of the Normandy landing. I say "curiously" because Waugh's literary alter ego, Charles Ryder, is a self-proclaimed atheist who loses Julia because he fails to appreciate how strong and lasting her Catholic upbringing has been in shaping her character. As it turns out, he loses her not once, but twice, the first time back in Brideshead at Lady Marchmain's ball for Julia's 21st birthday. There Lady Marchmain announces Julia's engagement to a rich Canadian businessman, Rex Mottram (Jonathan Cake), who, we learn later, has agreed to convert to Catholicism before his marriage, which Lady Marchmain has engineered in every detail. As Charles looks on dumfounded at the spectacle of Julia's submission to her mother, Sebastian breaks in on the festivities with a drunken rant against his mother, and everything she represents. Lady Marchmain then informs Charles that he is no longer welcome in Brideshead because he failed in his responsibility for Sebastian's behavior.
Four years later, Charles, now a successful artist, is surprised by a visit from a clearly dying Lady Marchmain, who implores him to bring Sebastian home from Morocco, where her son has indulged all his vices, and has taken on a German lover named Kurt (Tom Wlaschiha). Charles fails in his mission, and returns to England. There is much more to the story before it ends in its perverse way, in a sea of guilt, despair and religious awakening at death's door. Charles is left alone to ponder his lonely, Godless existence.
MY EXTENDED LINEAR synopsis does not do justice to the screenplay's ingenious juggling of the time machine to break up the narrative into reflective segments of Charles' insatiable hunger for a rise in station. This ascension is commensurate with the architectural glories of Oxford and Brideshead, the latter incarnated, as it was in the television miniseries, by Castle Howard, an imposing centuries-old edifice in Yorkshire. Indeed, Oxford and Brideshead become two of the major characters in the drama, and I must commend Mr. Jarrold and his many collaborators for imbuing the film with so much transcendent beauty.
I must confess at this point that I may have been especially overwhelmed by Mr. Jarrold's magical mise-en-scène because of a wedding I recently attended in the environs of Durham, Chapel Hill, and Raleigh, N.C., where Duke, the University of North Carolina, and N.C. State, respectively, are located. The wedding itself was held in a towering cathedral on the Duke campus. The experience was a bit mind-boggling for me, partly because I had never been in that part of the country before, and partly because my only prior acquaintance with these schools had been in the sports pages. I suppose I am now too old to be seduced by the well-tended fusion of masonry and foliage. Yet, I was better able to feel after this moment of awe what Charles was feeling when he was exposed for the first time to Oxford and Brideshead. It was a bit like F. Scott Fitzgerald's Gatsby gazing wistfully at the lights on Daisy's dock.
Of course, Waugh was waxing nostalgic for a period and system in English life that he thought would end forever after World War II—though what has transpired subsequently may not have been so dramatic. We pride ourselves in America on the absence of anything as rigid as the British class system Waugh depicts and dissects so brilliantly in Brideshead Revisited. Still, I think we Americans have much to identify with in Mr. Jarrold's insightful rendering of the material and spiritual aspirations in the life of an arriviste, no better, and no worse, than the great majority of our own young seekers after the American Dream. In this respect, Michael Gambon's death scene as a repentant Lord Marchmain encapsulates one of the most profound manifestations of the eternal struggle between faith and doubt it has ever been my privilege to witness.
The film's production notes imply that Waugh himself acknowledged having had a homosexual experience at Oxford. In their negotiations with the Waugh estate, the producers of the film received permission to expand the role of Julia in Charles' elective affinities by including her in the trip to Venice, whereas she did not accompany Charles and Sebastian in the book. Sebastian's teddy bear, which I remember vividly from having read the book in high school, has been virtually obliterated in the movie. I suspect that the director and the screenwriters simply gave up on trying to explain this flash of infantilism in Sebastian's character to a 21st-century audience. If I have not had much to say up to now about the interpreters of the three major roles, it is not because they are markedly inferior to their counterparts in the television miniseries nearly three decades ago. Still, I cannot say that Mr. Goode, Mr. Whishaw and Ms. Atwell were overpoweringly charismatic in their respective characterizations, and this is perhaps as it should be, given the coldly dismal denouement of the screen narrative.
When Julia ultimately rejects Charles to follow the dictates of an unforgiving brand of Catholicism, we would be unbearably heartbroken if we had been compelle
d by the casting to care too much more about the fates of the characters. Normally as a critic, I have championed the emotions in the cinema over the cerebrations. But in this instance, I believe that Mr. Jarrold and his scenarists have been unusually faithful to the bleak vision of humanity Waugh presents in Brideshead Revisited, and in all his works. It is a first for me, and I hope a last. Consequently, I recommend the brilliant pessimism of this film to all my readers, who I hope will appreciate the exquisitely rendered truthfulness of the narrative. As for the unredeemably pleasure-seeking hedonists among you, don't say I didn't warn you. On the other hand, nothing is more depressing in these dire times than a steady diet of mindlessly escapist flicks.
asarris@observer.com