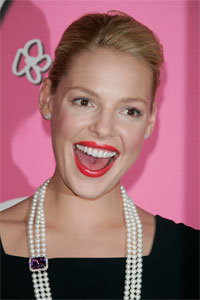 Remember when Katherine Heigl withdrew herself from the Emmy consideration last month because she felt she was not given awards-worthy material by the show's writers?
Well, according to Us Weekly, the writers decided to give her a chance at an Emmy by writing in a very dramatic brain tumor for the outspoken young actress' character, Izzie Stevens, that may eventually cause her to be killed off the show.
An unnamed source tells the tabloid, "[Producer Shonda Rhimes] and the writers are pissed at her. It's their way of screwing with her. She won't know whether she's going to live or die."
A rep for ABC would not confirm the plot twist, but said that Jeffery Dean Morgan—whom Ms. Heigl's Izzie Stevens reportedly has visions of due to her tumor—is returning to the show.