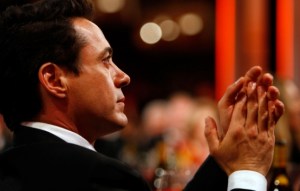 It was an elementary decision, dear readers! Robert Downey Jr. has been chosen to trade the gigantic steel suit from Iron Man for a tweed coat in director Guy Ritchie's version of Sherlock Holmes. It probably helped the hiring process that Mr. Downey Jr.'s wife Susan is on the production team (she's credited for getting the bad boy back on the acting track), as well as Joel Silver. Filming is set to begin in October.
Variety reports that Mr. Downey Jr. will go head-to-head with… Borat! Another Sherlock Holmes movie produced by Judd Apatow is in the works with Sacha Baron Cohen in the lead and Will Ferrell as the ever-important sidekick, Dr. Watson.
Who will win in the battle of the Sherlocks? Depends on who looks better smoking a pipe, perhaps.