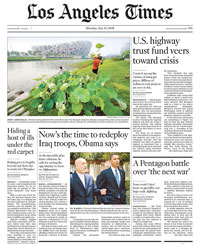 Sam Zell and Randy Michaels are about to end the Sunday Book Review at the L.A. Times and book reviews editors past are not pleased about it. Four former editors of the section—Sonja Bolle, Digby Diehl, Jack Miles and Steve Wasserman—wrote in a joint-letter to L.A. Observed complaining about the decision.
To be sure, no section of any newspaper can remain hostage to past ways of covering the news of the day. We are convinced, however, that the way forward is to increase coverage of our literary culture—a culture that every day is more vibrant and diverse in the thriving megalopolis of Los Angeles.
Angelenos in growing number are already choosing to cancel their subscriptions to the Sunday Times. The elimination of the Book Review, a philistine blunder that insults the cultural ambition of the city and the region, will only accelerate this process and further wound the long-term fiscal health of the newspaper.
So what else is about to get changed at the L.A. Times? We've been hearing from a few newsroom sources over the last week that something was about to dramatically change with the Opinion section. In a post on L.A. Observed's web site listing names of the 150 people who were laid off last week, there was this: "Tom Trapnell is the page designer for the Opinion section, which is being discontinued later this month."
Media Mob wrote into the paper's spokeswoman, Nancy Sullivan, to see what was happening, and here's what she had to say:
The Times op-ed coverage will continue on Sunday and throughout the week. What form that will take is currently under evaluation.