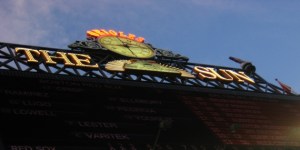 Newly named Washington Post executive editor Marcus Brauchli's wife, Maggie Farley, the United Nations reporter for the L.A. Times, says she quit right before the paper announced layoffs in order to "save a body." And, not surprisingly, she doesn't care much for what's happening to the paper. She tells L.A. Observed's Kevin Roderick:
"I resigned last week in the hopes that it would save a body, and with all the changes in our family and at the paper, it felt like a good time to leave and try something new. I am proud to have been part of one of the largest and strongest foreign staffs in the country, and am disheartened by what has been done to our great newspaper."
In other Tribune and Zell news, about 150 newsroom employees of the Balitmore Sun protested everything Zell yesterday. The paper announced recently it would cut 60 jobs (about 20 percent of the total newsroom) and a lot of the newsroom got into the revolutionary spirit! "Sell Zell!" they chanted.