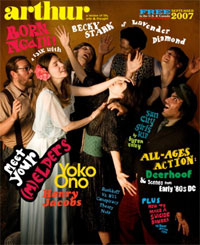 Jay Babcock, the founder of culture magazine Arthur, has decided to move his operations from Los Angeles to Brooklyn.
In an interview with the Los Angeles Times' the Guide, Mr. Babcock told August Brown why he chose to leave the City of Angels:
New York is just a more hospitable environment than L.A. ever has been or will be. L.A. is devolving quickly, and I think I got out in the nick of time. The L.A. Times is imploding, our public radio is terrible, the [L.A.] Weekly's been devolving for years. Local media's being run into the ground and I don't think anybody cares. The public's dumbed down and poorly educated. L.A. is a psychic death hole to me, and I don't want a part of that.
Don't hold back, Mr. Babcock! (This comes via LA Observed.) Mr. Babcock went on to say, "I didn't see any way for Arthur to survive in L.A. We got no financial support, none, except from poor artists. We got no support from the Brentwood liberals who spend all day blogging on the Huffington Post."