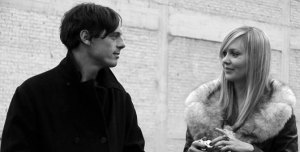 In Search of a Midnight Kiss
Running Time 90 minutes
Written and DIRECTED BY Alex Holdridge
Starring Scoot McNairy, Sara Simmonds, Katie Luong, Brian Matthew McGuire
Alex Holdridge's In Search of a Midnight Kiss, from his own screenplay, regards démodé downtown Los Angeles with the same fiercely lyrical affection Woody Allen has lavished on Manhattan over the decades. This alone would make the film strikingly original, but in addition, its tempestuous love story, with its heartbreaking complications, is well served by a cast of comparative unknowns. This talented assemblage is headed by Scoot McNairy as Wilson, the director's alter ego, and Sara Simmonds as Vivian, the salty-tongued blind date who leads Wilson on a wild frolic across the well-worn streets of a part of Los Angeles that has known better days and years and decades.
If Mr. Holdridge belongs to any school of filmmaking, it is the Austin, Texas, school of Richard Linklater, he of Slacker (1991), Dazed and Confused (1993), Before Sunrise (1995), Suburbia (1997), and Before Sunset (2004). Mr. Linklater's and Mr. Holdridge's are the types of romantic comedy that can spend an entire film on a single date, as if a chance encounter can change one's whole existence, which often, if not always, happens in real life as well.
Where Mr. Holdridge differs most decisively from Mr. Linklater is in the comparative foulness of today's youthspeak, though our male protagonist, Wilson, is 29, and Vivian, his stormy blind date, is 27. Whether all the profanity represents an increasingly widespread lewdness of speech in the young, or, simply, a more permissive atmosphere for a filmmaker, particularly an independent filmmaker, I cannot say.
Fortunately, all the bad words are not merely camouflage for unintelligent dialogue. Quite the contrary. The talk in Midnight Kiss is uncommonly bright and realistic, a fact that gives me renewed hope for the future of so-called independent cinema.
The film is set on New Year's Eve, already an absurdity in sunny Los Angeles. It has been a miserable occasion for Wilson over the past six years. Indeed, he has become so desperate for a meaningful midnight kiss that he has been reduced to masturbating in front of a nude publicity photo of his best friend's girlfriend, Min (Katie Luong). What is worse: He is caught doing it by his roommate and friend, Jake (Brian Matthew McGuire), who proceeds to ask Min out of mild curiosity if that is indeed a picture of her. After looking at the photo with mock thoughtfulness for a few moments, she answers in the negative, though it is obviously her picture. The important thing is that everyone remains cool about the situation, though Wilson, as is his wont, remains flustered in general.
When I was in high school, someone told me that only 5 percent of the students masturbated, and the other 95 lied about it, and I have accepted these figures as gospel ever since. Yet movies have seldom approached this practice except in the fringe exploitation genres. Even when we confront 40-year-old virgins of either gender, movies refuse to show them compensating for the lack of a sexual partner. There is lasting shame involved in this spectacle. So, in a sense, Mr. Holdridge has started his protagonist off on an embarrassing note, and yet manages to save the character, and actually develop him into a quasi-heroic stoic navigating the treacherous shoals of deception and infidelity.
Robert Murphy expertly photographed the somber ruins of a once vital downtown Los Angeles with many dazzlingly varied perspectives. Mr. Murphy also joins the cast as Vivian's insanely jealous ex-boyfriend, Jack, whom Vivian caught cheating on her with another woman, and was thus receptive to Wilson's personal ad on Craigslist. Wilson had been virtually bulldozed into placing the ad by a "helpful" Jake in the aftermath of the masturbation fiasco.
At their first meeting, Vivian starts things off unpromisingly by asking Wilson to sit at another table while she interviews a speed-dating applicant waiting patiently. The logistics here don't make much sense, but the sheer outrageousness of Vivian and the situation is funny enough to make us forgive any lapses of logic and probability. In any event, the temporary delay in the meeting of Vivian and Wilson ends quickly in Vivian's somewhat cruel dismissal of a well-meaning lug who gains our sympathy by his abject need for encouragement in the game of love. We never see him again, but we are left with an unlikely couple for the long haul.
Before Wilson receives his long awaited midnight kiss, the narrative unleashes two wild twists, which, for a change, I am not going to give away. These make the film both sadder and wiser. All in all, In Search of a Midnight Kiss overcomes patches of overwriting to end up as a film well worth watching, and Mr. Holdridge as a writer-director to be remembered for future reference. But then, as a critic, I have never presumed to be intellectually superior to "mere" love stories in the cinema.
asarris@observer.com