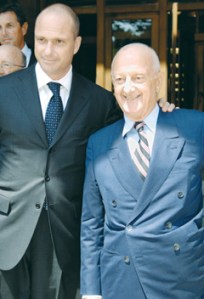 Banquet king Giuseppe Cipriani may have finally met his match in Daniel Boyle, chairman of the New York State Liquor Authority, writes Page Six Magazine scribe Joshua David Stein.
After losing his valuable lease in a legal fight at the Toy Center, the dapper restaurateur now faces life without bellinis, if archnemesis Mr. Boyle has his way and puts all seven Cipriani establishments effectively out of business by stripping their liquor licenses.
How ironic, writes Mr. Stein, if "a clan that has catered to the haute monde for almost 80 years could suddenly be brought down by a normal, middle-class guy in a regular, old courtroom next month."
The article also notes how Mr. Cipriani's residential project on Wall Street hasn't exactly panned out, either:
With a 1,000-seat restaurant and 106 private residences (ranging in price from $885,000 to $3 million), the Ciprianis have spent $120 million on this luxury development. Sales, however, have been disappointing, with the Web site for the building's real estate broker listing 40 vacant units. According to Girombelli, 80 percent of the apartments are sold—however, three of these spaces are owned by Giuseppe and, according to reports, some celeb owners, like Mickey Rourke and Naomi Campbell, received steep discounts. Says a Cipriani insider, "The movement to Wall Street just isn't there."