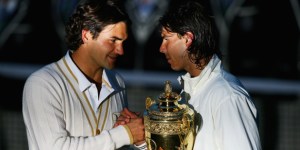 Houghton Mifflin proved itself to be an admirably nimble house this morning when news came that Jon Wertheim, a sportswriter under contract there, had agreed to write a book centered around last weekend's historic Wimbledon match between Roger Federer and Rafael Nadal. Mr. Wertheim, who wrote a cover story on the match for this week's issue of Sports Illustrated, was already working on a book about Federer for Houghton but has, according to Publisher's Weekly, decided to narrow his focus on the rivalry with Nadal.
It's not exactly surprising, considering how thrilled Mr. Wertheim was about this weekend's match. Writing on the SI Web site, he gushed:
I generally try not to get caught up in the Superlatives Sweepstakes. But I'm going unequivocal on this one: the 2008 Wimbledon men's final was THE greatest match of all-time. Period. You had an impossibly rich — Shakespearean, even — subtext. You had two gentlemen. A dazzling rivalry. One versus two. Lefty versus righty. In the Wimbledon finals — the friggin' Wimbledon finals! Then the match is of the highest quality. And it had everything: serves, returns, shot-making, net play speed, power, grace, alternating momentum, mental strength, injury, acts of God. With literally seconds to go before darkness, the match is won 9-7 in the fifth. Add those ingredients, put it in the Bass-o-matic and you've got an unrivalled sporting event.
In that post, Mr. Wertheim said there were "hundreds of questions about the match and its aftermath." Presumably, the book, which will be called Strokes of Genius, will address them.
"Originally, when we sold the book in the spring, it was really Federer-focused," said Mr. Wertheim's agent, Scott Waxman. The idea at that point was to find a match from the upcoming season and use it as an entry point into an evaluation of Federer's game. According to Mr. Waxman, that idea came from John McPhee's Levels of the Game, which was about the 1968 U.S. Open Semifinals match between Arthur Ashe and Clark Graebner.
Mr. Waxman noted that there was no guarantee a great–that is, usable–match would emerge.
"What if there is no great match? That would be the typical knee-jerk reaction," Mr. Waxman said, "but Susan [Canavan, Wertheim's editor] trusts her authors and she was willing to take a risk."