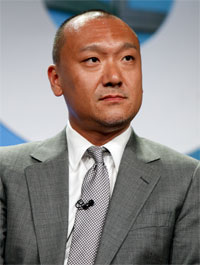 Elle creative director Joe Zee will be making his reality TV debut this fall as a judge on CW's Stylista, a show in which fashion hopefuls will compete to become senior fashion news director Anne Slowey's assistant at Elle. Created by producers of Project Runway and America's Next Top Model, Stylista promises to a be A Devil Wears Prada-inspired reality show that will presumably feature contestants performing assistant duties while Ms. Slowey throws her coat at them like Meryl and says mean things about their H&M outfits.
Meadiabistro's Diane Clehane interviewed Mr. Zee about his career and his experience on the show. Read on for highlights as Mr. Zee discusses overeager interns, Nina Garcia's departure at the magazine, and his role on the show.
On interns' sense of entitlement:
I was at W, and I had an intern. On her first day—she hadn't done anything yet—she walked up to me and said, "I just want to ask—if you have a photo shoot with Gwyneth Paltrow, I'd like to come." Half of me was like, "I kind of like that tenacity," and the other half of me was like, "Why don't you do what we need to do here first? I love that you're putting in your order for which actress you'd like to meet. I can't believe you're doing this on day one!"
On press coverage of Nina Garcia's departure:
I don't know if surprised is the word. It was at a time when it was all about Project Runway. It has a really strong following. There was so much business press about the switch from Bravo to Lifetime, it was a topic that was top of mind. Her departure just added a footnote to all the stories and fuel to the fire. I'm not shocked about that aspect. I'm more shocked that I didn't know we were so interesting.
On getting offered to do Stylista:
The mechanics of the show were up and running prior to me coming to Elle. Robbie [Myers] was like, "Come in and have a meeting with these guys." When I did, it sounded like an interesting concept, and everything rolled really quickly. When they asked me to do the show, I said, "Sure."
On his role:
My participation in the show is minimal. I'm a judge. I only needed to come every third day. The shoot was four weeks. We usually did it after work, in the evening. It didn't really affect my workday. It was easier for me because I don't need to show up early for hair and makeup.
On what surprised him about reality TV:
The only shocking part was [how] everything happened so quickly. You're watching these shows and you think it's a longer period of time, but everything just really happens fast.