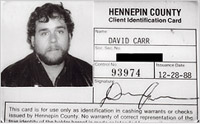 The New York Times website has just posted a preview of this week's Times Magazine featuring an excerpt from media columnist David Carr's forthcoming book, The Night of the Gun.
The story, like the book, tells of Mr. Carr's years of drug and alcohol abuse and his various scrapes with the law as he somehow managed to rise in journalism and raise his twin daughters. There's also a video in which Mr. Carr explains the book's title and how his attempt to remember "the night of the gun" set the tone for his investigative approach to his own experiences.
Not included in the extract? Tom Arnold, who plays a special role in Mr. Carr's book and in his life.