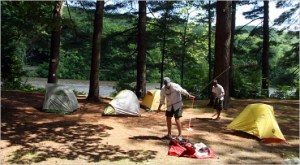 Merely a coincidence, or does The New York Times editorial staff foresee an imminent real estate apocalypse?
For the second time this week, The Times has run a story about portable, one-man tents (the better to shelter us when the city comes to resemble Cormac McCarthy's The Road).
Two days ago, the paper's business section reported on the so-called "Mini Motel," a one-man tent complete with air mattress, night light and alarm clock for those unlucky souls marooned at O'Hare with no hotel voucher to temper the inconvenience.
Today, the paper ran a story on the latest technologies in one-man tents — not for camping inside transit hubs, but for camping outdoors. The paper's Styles section enlisted a guy named Tim Hawkes, who runs an adventure guide service, to try out five different tents, from the $349.95 MSR Hubba to the $188.09 Big Agnes Emerald Mountain. Click here to find out how the tents fared.