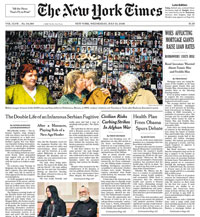 Arthur Sulzberger, Jr. and Janet Robinson reported grim second-quarter results today—ad revenue down another 10 percent versus the second quarter last year, net income down to $21 million versus the $118 million they made this quarter last year—and just dropped a small bombshell:
"We plan to increase the daily newsstand price of the Times from $1.25 to $1.50," said Ms. Robinson on a conference call with investors this morning. It goes into effect on August 18.
The paper last raised newsstand prices last July.