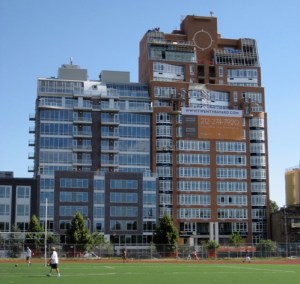 It's more or less an open secret, but we've learned that the Top Chef cast has definitely been living for about two weeks now in a terraced duplex penthouse in Williamsburg overlooking McCarren Park.
So far, the chefs have pretty much kept to themselves, said an extremely well-placed source, leaving around 8 or 9 in the mornings for a soundstage in Greenpoint and coming straight back in the evenings.
"They're not allowed to talk to anyone, really, or even do their own thing," the source said. They're trying to keep things under control before the paparazzi start camping out."
Luckily, it sounds like they have the typical luxe reality show digs, complete with a private roof deck and a sweeping view of the city skyline, to occupy them when they are not shopping, cooking or shooting.
Though the source would not say which of the two "identical" parkview penthouses the cast is living in, a 1,368-square-foot, 16th-floor unit was sold in April for $1.4 million, according to StreetEasy. (Meanwhile the neighboring unit, 16A, is in contract for $1.295 million.)
According to the duplex floor plans on the 20 Bayard Web site, the first floor has an open-air kitchen, foyer, eating area and living room–with a balcony–and floor-to-ceiling windows overlooking McCarren Park and Manhattan. The kitchen is outfitted with a 36-inch Sub-Zero refrigerator, a Viking gas range with Caesar stone, and Calacutta Gold marble countertops and backsplash. The two first-floor bedrooms overlook the buildng courtyard, while the master bedroom—with a huge en suite bathroom and private terrace—occupies the entire second floor.
The sleek, American Psycho-esque standard penthouse pictured on the site is far from shabby as it is, but we're told Bravo has done some redecorating.
"They're already awesome, but they've furnished it like a celeb would," the source said. "One wall is orange, one is gray, one is purple. They've got that funky Real World look going on."
So far the cast has remained pretty incognito. Few people from neighboring buildings were even aware Top Chef was shooting in Williamsburg.
"No way," said the cashier at Urban Rustic, an organic market down the street, who is a fan of the show. "That's awesome."
So will the cast do any shopping there?
"That would be cool, but I doubt it," the cashier said. "They usually give them a budget."