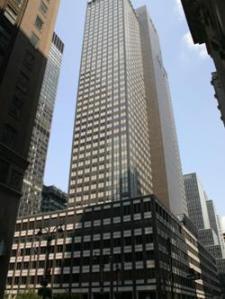 Big news on multiple fronts thanks to a very complicated transaction just completed by CB Richard Ellis.
Arch Insurance Company, which CBRE just announced is consolidating its back-office operations in Jersey City, moving 300 employees to 107,000 square feet in Mack-Cali Realty Corp.'s Harborside Financial Center, is releasing space in midtown Manhattan and in the Financial District to an investment banking firm founded by the former head of UBS, and to Cleary Gottlieb, the white-shoe law firm.
Arch Insurance has subleased 30,000 square feet at 245 Park Avenue to Moelis & Co., former UBS Investment Bank president Kenneth Moelis' eponymous new firm that is, as CBRE broker Mark Ravesloot put it, "bursting at the seams" in its current space. The sublease is for three years. Cushman & Wakefield represented Moelis in those negotiations.
In a separate transaction, Arch released two floors at 1 Liberty Plaza, totaling 89,000 square feet, back to landlord Brookfield Properties, which, in turn, leased them to Cleary Gottlieb Steen & Hamilton, the prominent law firm that already has 547,000 square feet in the building, which it recently renewed for 20 years. Newmark Knight Frank represented Cleary in those negotiations.
Arch isn't entirely Jersey-bound. While the back-office operations are moving across the Hudson — lured, in part, with a $9.5 million incentive from the state — its headquarters and New York regional offices will remain in the city. Arch will retain the remaining 48,000 square feet on the 53rd floor.
The incredibly complicated transaction — really, three transactions — took a mere three months time, said Mr. Ravesloot, whose team included Paul Jacobs, Colin Reilly, Scott Sloves, David Opper and Michael Monahan.
Here's Mack-Cali's release below.
MACK-CALI ANNOUNCES NEW LEASE AT HARBORSIDE FINANCIAL CENTER
—Arch Insurance Company Leases Over 106,000 Square Feet at
Harborside Financial Center in Jersey City—
Edison, New Jersey—July 24, 2008—Mack-Cali Realty Corporation (NYSE: CLI) today announced that Arch Insurance Company has leased 106,815 square feet at Harborside Financial Center Plaza 3 on the Jersey City waterfront. The lease carries a term of 15 years.
Arch Insurance Company, a division of Arch Capital Group Ltd., is a provider of property, casualty and specialty insurance. Harborside Financial Center is a mixed-use complex with five class A office buildings totaling 3.1 million square feet. The office buildings are 99.6% leased.
Mitchell E. Hersh, president and chief executive officer of Mack-Cali, commented, "This transaction demonstrates Mack-Cali's ability to attract high-caliber businesses to our class A properties. We are pleased to welcome Arch." He added, "Harborside Financial Center continues to be an attractive office location for leading businesses due to its abundant amenities, excellent transportation access, and significant financial benefits."
Mark Ravesloot, Paul M. Jacobs, Colin Reilly, Scott Sloves, David Opper and Michael Monahan of CB Richard Ellis represented the tenant in the transaction.
Mack-Cali Realty Corporation is a fully-integrated, self-administered, self-managed real estate investment trust (REIT) providing management, leasing, development, construction and other tenant-related services for its class A real estate portfolio. Mack-Cali owns or has interests in 294 properties, primarily office and office/flex buildings located in the Northeast, totaling approximately 33.7 million square feet. The properties enable the Company to provide a full complement of real estate opportunities to its diverse base of approximately 2,200 tenants.

Additional information on Mack-Cali Realty Corporation is available on the Company's Web site at www.mack-cali.com.
Statements made in this press release may be forward-looking statements within the meaning of Section 21E of the Securities Exchange Act of 1934, as amended. Forward-looking statements can be identified by the use of words such as "may," "will," "plan," "should," "expect," "anticipate," "estimate," "continue," or comparable terminology. Such forward-looking statements are inherently subject to certain risks, trends and uncertainties, many of which the Company cannot predict with accuracy and some of which the Company might not even anticipate, and involve factors that may cause actual results to differ materially from those projected or suggested. Readers are cautioned not to place undue reliance on these forward-looking statements and are advised to consider the factors listed above together with the additional factors under the heading "Disclosure Regarding Forward-Looking Statements" and "Risk Factors" in the Company's Annual Reports on Form 10-K, as may be supplemented or amended by the Company's Quarterly Reports on Form 10-Q, which are incorporated herein by reference. The Company assumes no obligation to update or supplement forward-looking statements that become untrue because of subsequent events, new information or otherwise.