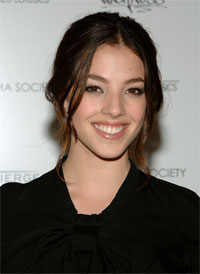 In an effort to name promising newcomers so that they can later say, "We Told You So!" Vanity Fair has come out with its Bright Young Hollywood package for its August issue.
The spread of young men and women features their answers to a hard-hitting questionnaire about their lifestyle preferences: Levi's or J Brand? BlackBerry or iPhone? Jimmy Choo or Christian Louboutin?
And what do we learn?
They love shoes!
Seventeen year-old Emma "Julia's Niece" Roberts, tells the magazine that she owns a little under 50 pairs of shoes and hopes to imitate the Olsen twin look. "I love the way Mary-Kate and Ashley dress. I know that's probably cliché to say." And Olivia Thirlby, Juno's adorable friend (whom The Observer's Sara Vilkomerson profiled last year) says, "I mean, all my shoes don't fit in my closet. I'll put it that way. I have shoes on my dresser and shoes on the floor, and I have shoes that my parents are holding on to for me. I have too many shoes."
Gossip Girl's Blake Lively, 20, talks about her videogame obsession. "Guitar Hero for Wii," she said when asked about her favorite game. "I had them write it into the show. But I just bought the Rock Band for Xbox." Meanwhile her co-star—and rumored boyfriend—Penn Badgley talks about his real-life high school experience, which apparently was "strange to nonexistent. I graduated early. Everyone is just so painfully vulnerable and self-conscious." Um, most of us still are…
Other revelations: Taylor Momsen watches marathons of Law and Order SVU, Jonas brothers each own a BlackBerry and an iPhone, and Jonah Hill's style icon it turns out is Jason Schwartzman.
Also, aside from a few that opted out of the political questions like Mr. Badgley who told VF's James Wolcott, "I'm politically apathetic. We were raised in a time when we never had a leader who was a role model at all. Every president has gotten worse and worse—it doesn't make you want to engage," Young Hollywood generally seem to be in the Obama camp:
Olivia Thirlby is so pro-Obama that she's afraid of jinxing things by flapping her wings too hard ('But, I mean, I love Obama'). Newly registered voter Emma Stone, who's dying to make a movie with Diane Keaton, is another name checked in Obama's favor. 'I'll go Obama,' says Christopher Mintz-Plasse. Jonah Hill: Obama. Zöe Kravitz, daughter of rocker Lenny Kravitz and former Cosby Show star Lisa Bonet: Obama. Rachael Taylor, a Tasmanian import who lent shampooed luster to Transformers and Shutter (style icon: Catherine Deneuve), is for Obama, and she's not even eligible to vote. Summer Bishil was one of the few brave voices for Hillary ('She's the woman that I think is awesome'), while the candidacy of John McCain seems to have drawn complete blanks, goose eggs, zeros across the board.
Browse the complete portfolio of actors and actresses here.