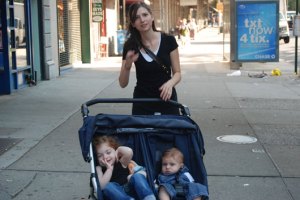 In April of 2006, Dana Rubinstein was standing at the kitchen sink of her West 80th Street apartment, rinsing out one of her 8-month-old daughter's bottles. It was 2 a.m. Ms. Rubinstein was exhausted. She was also annoyed. Even as the water flowed in profusion, she noticed the stubborn appearance of tiny soapsuds that seemed, in her mind, dead-set on poisoning little Maya.
"I'm so careful about everything else that I surround my baby with, and here I am putting a synthetic chemical dish detergent in her bottles that may not come off!" recalled Ms. Rubinstein, who said that she purchases only organic groceries and recycled baby wipes for her offspring.
The next morning, after a couple of shots of espresso, Ms. Rubinstein, a graduate of Yale and Columbia Law who was then working as a litigator at a corporate firm in Manhattan, called her close friend and fellow Upper West Sider, Tamar Rosenthal.
"Tamar," she said, "I got it!'"
With two children of her own—3-year-old daughter Yvee, and 2-year-old son Samuel—Ms. Rosenthal, who has an undergraduate degree in psychology from Yeshiva University and a master's in public administration from New York University, was no stranger to the increasingly hypervigilant standards of local parenting. The two women took their bottle blues to the mommy blogs and forums.
"If you ask a couple of people on the street if they remember the smell left in baby bottles, they go, 'Oh, the odoooor!' and then they scrunch up their faces and go, 'And the residue!'" said Ms. Rosenthal, 28, over coffee downtown, scrunching up her own face and drawing out the words for effect.
Thus was born Dapple, a line of eco-friendly dish liquids and detergents for babies that began appearing on shelves of posh baby boutiques like the Upper Breast Side on West 70th and Babesta on West Broadway, priced between $4.99 and $5.99; backing comes in part from the two women's husbands: Ilan Rubinstein, 30, head of acquisitions and asset management for Manhattan real estate development firm HFZ Capital Management, and Robert Rosenthal, 29, president of North Link Properties.
The name comes from Simon and Garfunkel's "59th Street Bridge Song."
"C'mon, Dana, sing it!" begged Ms. Rosenthal, wearing a neat little tulip khaki skirt and a navy blue dress shirt, her curly brown hair gathered into a charming mess on top of her head.
"I'm dappled and drowsy and ready to sleep …" intoned Ms. Rubinstein, 29, who has straight brown hair and a fair complexion. "It has always just evoked a very happy image for me," she said of the word. "It's like 'dappled by sunlight,' but then there's also the graphic image of dapples—these little spots that need to be washed away."
The Dapple damsels set up an office in Ms. Rosenthal's apartment—10 blocks north of Ms. Rubinstein's place—with a couple of computers; a turquoise-topped meeting table where they hold conference calls; kids' drawings lining the walls; and a bouncy seat in the corner where Ms. Rosenthal's new 7-month-old baby, Sima, sometimes sits while they work.
Soon enough they were looking at early samples of Dapple, formulated with the help of pediatricians and "green" chemists, with baking soda and plant-derived ingredients substituting for the harsher chemicals commonly found in personal-care products. "First, there was the question of fragrance," Ms. Rosenthal said. "One of the early scents was actually lemongrass. Oh, God, Dana, do you remember lemongrass?"
Ms. Rubinstein rolled her eyes and smiled.
"Then we tried citrus, but decided it can be an allergenic," Ms. Rosenthal continued. "We even tried the micro-beads idea, but then realized that they can abrasive. I mean, they are not even safe!"
Finally, they arrived at lavender. But it wasn't easy. "We tried, like, 8—no, 12!—different lavenders, and even then we weren't happy with the level of fragrance," she said. "We went to all these Mommy and Me classes on the Upper West Side and made mothers smell some freshly cleaned bottles." Their husbands, wearing Dapple T-shirts, accompanied them to parks in Tribeca and on the Upper West and Upper East sides to hand out samples. "I will never forget when I sat at the Hippo Playground on 91st and held out the dish liquid, asking parents, 'Would you buy this if it were clear or colored? CLEAR OR COLORED?'" Ms. Rosenthal mocked herself, in a desperate, obsessive voice.
They settled on clear, with a picture of Maya at 16 months on the label. "We've had some people say to us, 'Yeah, looks good, but I don't know about the baby, maybe you can find a better-looking baby,'" said Ms. Rubinstein, who's still working on projects for her law firm when she's not preoccupied with taking Dapple wide.
"We want it to be for everyone," she said. "But if we can get Dapple in the hands of Angelina Jolie, then sure, why not?"
ialeksander@observer.com