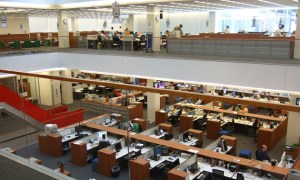 At 10 a.m. on July 29, three top editors of The Washington Post arrived at the Times Tower on Eighth Avenue.
The Post, which is currently combining its digital and newspaper newsrooms, had come to one of its great rival news organizations for something unimaginable just a few years ago: advice.
"We're visiting a couple places to talk about the integration of our online and print news operations," said Phil Bennett, the managing editor of The Post, who joined Jim Brady and Liz Spayd, top online editors at washingtonpost.com. "The Times went through this three years ago and they were generous enough to open up that process and tell us what they discovered."
It was a four-hour session, from 10 to 2, with the top three Posties circulating all over the building with a brief lunch break in the cafeteria and a sit-in for one of the story conference meetings (hope they didn't call in those lead stories back to their paper!). The meeting was arranged when Mr. Brady asked his friend, Vivian Schiller, the general manager of nytimes.com, if The Post could come up for a tour. The Post has been making a habit of trips like this: the Post trio of Bennett-Brady-Splayd went to Europe last month to tour the newsrooms of the BBC, the Guardian, the Financial Times and the Telegraph. But isn't The Times supposed to be, well, different? Aren't they direct rivals? Would Red Sox scouts visit the Yankees front office to learn how they scout players?
"There are new rules to competition," said Mr. Bennett. "We feel very competitive to The Times in most areas of journalism, but with the innovations that they are developing, I feel like I'm in the role as a cheerleader as well. We want the kind of journalism that we're all aspiring to develop to succeed and to reach bigger audiences and to have a bigger impact."
"This is the culture of the Web newsrooms," said Jonathan Landman, top digital editor at The Times. "There are a million people doing a million different things and everybody wants to understand what the possibilities are and what's working and what isn't working."
"We're not talking about stories or coverage plans; none of those things come up," said Jim Brady, executive editor of washingtonpost.com. "We're talking broad concepts digitally, we're talking about the business."
He wouldn't discuss what specifically came up on Tuesday, but the conversations are primarily focused on the mechanics behind a news site. "It would be something like, we pushed really hard with doing things with databases—we have a Congressional voting database and people think it's cool and they link to us. Someone would come in and visit us and ask, how do you build them? How long does take to get that data and move it? How many bodies do you have to hire to do this? How hard is it? What kind of resources does it take?"
"Those are concepts you talk about," he continued. "Structure."
Mr. Bennett, for his part, said The Post was still "digesting" everything he took away, but he was plenty impressed. "I think The Times has set a standard with how to grow and develop in a creative way," he said.