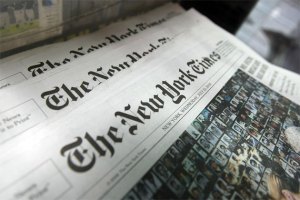 More bad news for the suddenly beleaguered New York Times.
A report in today's Wall Street Journal by David Gaffen claims that as shares of the company continue to fall, "Standard & Poor's said it is facing a potential downgrade, which would drop the credit rating into junk territory."
(Conservative press critics have been saying that for years without all the fancy numbers and statistics.)
According to an analyst from Barclays Capital quoted by The Journal, "We can not envision a single positive scenario." Well, not unless you're Rupert Murdoch, that is.