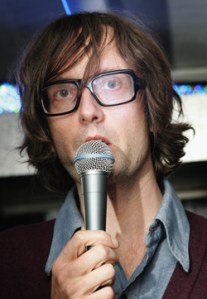 As you may know, Wes Anderson is working on an animated adaptation of the Roald Dahl children's novel, The Fantastic Mr. Fox, and once again, the cast is an all-star one: George Clooney, Cate Blanchett, Anjelica Huston, Bill Murray and Jason Schwartzman. But equally important to the success of any Wes Anderson film is a sountrack that the indie kids—and in this case, we really do mean kids!—will love (a combination of '60s and '70s rock staples, classic punk tunes, and an Elliot Smith song thrown in for good measure usually does the trick). It seems like The Fantastic Mr. Fox will be no exception.
Today, Pitchfork reports via Time Out Chicago that Jarvis Cocker, the former front man of the influential Brit Pop band Pulp, has written some songs for the feature. "I've written three, four songs, and some of that might become bits of the score," Mr. Cocker told Time Out, though Pitchfork notes that "Mr. Cocker's label was unable to confirm anything about this just yet."
In the meantime Mr. Cocker, who released his debut solo album last year on Rough Trade, has some New York dates coming up next week: Monday at the Music Hall of Williamsburg (sold out) and Tuesday at the mega-venue Terminal 5 (tickets still available). But don't expect to hear mid-90's classics like "Common People" or "Disco 2000."
"I don't play any Pulp songs," Mr. Cocker said.