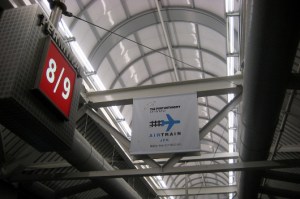 John F. Kennedy International Airport was the world's 13th busiest by passenger amount in 2007, according to a new report from the trade group Airports Council International. JFK was the only New York area airport to make the list (PDF) of the world's 30 busiest (see update below).
In 2007, 47,716,941 passengers passed through the airport on the edge of Queens, an 11.9 percent increase over 2006. Of that total number, 21,543,251 were international passengers, making JFK the 15th busiest in the world in terms of international passengers (list here as PDF).
Atlanta's Harstfield-Jackson was the world's busiest airport in 2007 in terms of total passengers. London's Heathrow was the busiest in terms of international passenger.
Update 8:16 p.m.
Newark's Liberty International did make the top 30 list of the world's busiest at No. 21, with 36,367,240 passengers in 2007.