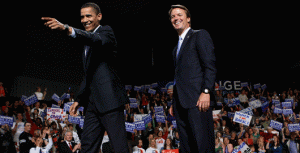 John Edwards could have taken the Jim Webb route when NPR grilled him yesterday about his interest in reprising his role as the Democratic vice presidential nominee, but instead he said this: "I am prepared to seriously consider anything, anything he asks me to do for our country."
If Barack Obama were to choose Edwards, it would create an unusual situation in American politics. Very rarely does a losing vice presidential nominee land on someone else's ticket in a future election. Edwards would be the fourth person ever to do this, and the first since 1916.
The others:
Thomas Hendricks, the Democratic governor of Indiana first ran as Samuel Tilden's running mate in the 1876 election. The Tilden-Hendricks ticket actually won the popular vote, but Republican Rutherford Hayes maneuvered his way to a controversial 185-184 victory in the Electoral College. Hendricks sat out the 1880 election, but was chosen in 1884 as Grover Cleveland's running mate. The Democrats narrowly defeated Maine's James Blaine in the general election, but the 66-year-old Hendricks died eight months after taking office.
Adlai Stevenson I was a congressman from Illinois when the Democrats nominated him to run with Grover Cleveland in 1892, when Cleveland was seeking to reclaim the White House after a four-year absence. Stevenson was placed on the ticket to appease the party base, and he and Cleveland went on to defeat incumbent Republican Benjamin Harrison and his running mate, Whitelaw Reid, in the fall. But when Cleveland stepped aside in 1896, Democrats snubbed Stevenson at their convention and instead nominated the charismatic William Jennings Bryan for president. Bryan lost to William McKinley but emerged again in 1900 as the Democratic nominee and – with most prominent Democrats unwilling to run for VP in what seemed to a be a doomed election for their party – turned to Stevenson as a way of uniting the party base.
Charles Fairbanks was chosen in 1904 to run with Theodore Roosevelt on the Republican ticket in what proved to be one of the more uneventful general elections in American history, with Roosevelt and Fairbanks trouncing Democrats Alton B. Parker and Henry Gassaway Davis (at 81, the oldest person ever nominated for national office by a major party). Roosevelt essentially chose his own successor in 1908, but passed over Fairbanks for William Howard Taft. Fairbanks reemerged in 1916, though, when he was tapped to run with Charles Evans Hughes, who very nearly unseated Woodrow Wilson.
One other name could also be on this list is Rufus King, who represented New York in the Senate and who was the Federalist Party's nominee for VP in both 1804 and 1808, losing both elections. But unlike the others on this list, King ran both times with the same presidential nominee, Charles Pinckney.