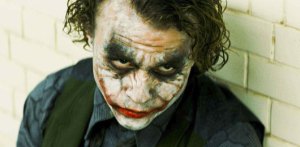 THE DARK KNIGHT
RUNNING TIME 152 minutes
WRITTEN BY Christopher Nolan and Jonathan Nolan
DIRECTED BY Christopher Nolan
STARRING Christian Bale, Heath Ledger, Michael Caine, Aaron Eckhart, Maggie Gyllenhaal, Gary Oldman and Morgan Freeman
Christopher Nolan's The Dark Knight, from a screenplay by Jonathan Nolan and Christopher Nolan, based on a story by Christopher Nolan and David S. Goyer, is, of course, ultimately from a series of comic books published by DC Comics, with the creation of the Batman character attributed to Bob Kane. In the world of comic-book superheroes, the Batman franchise has specialized in the most eccentrically colorful villains. I still remember Michael Keaton's Bruce Wayne/Batman character looking out of the corner of his eye at Jack Nicholson's clownish antics as the Joker in Tim Burton's 1989 Batman, the second such cinematic transfer after Laslia Martinson's 1966 Batman, with Adam West reprising in a campy fashion his hit television role. I remember also Milton Berle's smirking at the idea of Batman's "Ward," Robin (played by Burt Ward), by pursing his lips as he pronounced "Ward." The comically homophobic Berle also had fun with the name "Bruce." Anyway, Robin is nowhere to be found in this new ultra-adult version running some 152 minutes and aptly titled The Dark Knight. Indeed, Mr. Nolan's is a darker and more nihilistic Batman than any of the other six previous forays into the illuminated night sky of Gotham City, with such other Bruce Wayne/Batman impersonators, besides Mr. West and Mr. Keaton, as Val Kilmer, George Clooney and, in Mr. Nolan's first Batman film, Batman Begins (2005), Christian Bale. Mr. Bale continues in The Dark Knight along with such other cast members from Batman Begins as Gary Oldman as Lieutenant Jim Gordon; Michael Caine as Batman's major-domo and father figure, Alfred; and Morgan Freeman as Lucius Fox, Bruce Wayne's business adviser and facilitator.
As it happens, there are three additions to the cast that lift the film into the artistic stratosphere. First and foremost is the late Heath Ledger as the Joker; he transfigures this traditionally villainous role with a ghostly grandeur that has already impelled some journalists to look up the short roster of posthumous Oscar winners, though in this instance it should be for a lead role rather than a supporting one. Almost as impressive are Aaron Eckhart as the crusading District Attorney Harvey Dent, and Maggie Gyllenhaal as Rachel Dawes, Dent's legal assistant, who's torn emotionally between her employer and Bruce Wayne/Batman, with whom she has had a long-term relationship.
What is most unprecedented about the narrative, however, is its largely unsympathetic treatment of the yapping and yowling citizens of Gotham City, a gloomy echo of ourselves, at the gas pumps and grocery stores, still looking for easy answers from the highest bidders for our votes. In this respect, Ledger's Joker brilliantly incarnates the devil in all our miserable souls as we contemplate a world seemingly without hope.
The extraordinary charisma of the three new arrivals has managed to dim the luster of Batman himself. It is not Mr. Bale's fault that the director has chosen to downplay the sacredly secret duality of Wayne/Batman; previously a deity, here he tends to be treated as just another guy hanging around police stations and gangster joints. Mr. Nolan even shifts the action briefly to Hong Kong to add Asian flavor the proceedings, perhaps because China has become so obtrusively involved in our affairs and our so-called way of life.
For that matter, Ledger's Joker takes on the dimension of every terrorist in our most fearful imagination. He is something of a genius with high explosives and their electronic detonators. He always seems to be one step ahead of the authorities, and, on occasion, even Batman himself. By the time he has completely terrorized the people of Gotham City by blowing up half the metropolis, and ingeniously engineering the assassination of its mayor, the people are fleeing on ferries because the bridges and tunnels are too vulnerable to the Joker's limitless terror stratagems. Ironically, Ledger's Joker kills more mobsters than all the city's police forces. But it's not their loot he is after, but simply an acknowledgment by Batman and the district attorney that the battles of good vs. evil are simply exercises in futility. Finally, Batman's greatest fear is that the Joker will completely succeed in corrupting the citizens of Gotham City, and by the time the film is over, one is not quite sure if good has really triumphed over evil. What is certain, however, is that the struggle will continue well into the foreseeable and unforeseeable future.
The copious production notes for the film tell us: "Six sequences of The Dark Knight were filmed with IMAX cameras, including the opening six minutes. This marks the first time ever that a major feature film has been even partially shot using IMAX cameras, marking a revolutionary integration of the two film formats. The IMAX Experience will appear in IMAX DMR (letterbox) while scenes shot with IMAX cameras on 15/70mm film will expand vertically to fill the entire IMAX screen, which can be up to eight stories tall, for an all-encompassing moviegoing experience."