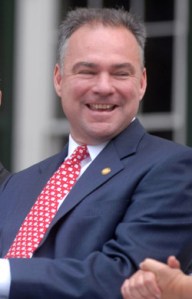 For all anyone besides Barack Obama (and maybe a confidante or two) knows, the media buzz may be accurate and Tim Kaine could soon be introduced as the presumptive Democratic presidential nominee's running mate.
But this is not at all what the prelude to an announcement is supposed to feel like.
It all started late Monday afternoon, when several credible publications – hours after Obama's top campaign strategists met with his running-mate selection team in Washington – suggested that the 50-year-old Virginia governor had emerged as the leader among a select group of running-mate finalists. Kaine "ranks very, very high on the short list," a source told the Politico, while The Washington Post reported that Kaine had had "very serious" conversations with Obama about joining the ticket.
From these and other reports, an apparent list of VP finalists seemed to emerge, with Kaine getting most of the ink, but Indiana Senator Evan Bayh, Kansas Governor Kathleen Sebelius and, perhaps, Delaware Senator Joe Biden also in serious contention.
And so it seemed that the story had reached its final stage. In the past, the appearance of a consensus list of finalists in multiple publications – with one contender drawing the bulk of speculation – has signaled the imminence of a decision and announcement, usually within days. This is how it worked in 2004, for instance, when it became clear that John Kerry was picking between Dick Gephardt and John Edwards and in 2000, when Al Gore's quartet of finalists – Kerry, Edwards, Bayh and Joe Lieberman – produced a day of frantic media speculation before word finally leaked that Lieberman was the choice.
But it's two days and counting since the Kaine stories appeared and the anticipation they stirred has amounted to nothing. There have been no public suggestions from the Obama campaign that a decision or announcement is at hand, and – perhaps more notably – news accounts have been devoid of background quotes from Obama higher-ups either fanning the flames of anticipation or dousing them.
We have, however, heard from Kaine himself – several times. First, he stuck the familiar script for potential running mates, refusing on Tuesday to discuss the reports and simply stating about the VP slot, "I haven't sought it. I'm not running for it. I'm not asking for it."
But then, while speaking to a Virginia resident at a carnival later that day, he said: "There has been a long list. It seems to be getting shorter. And I'm still being mentioned." According to ABC News, a friend who was with Kaine then said: "I think he is at the top of the short list." This, not surprisingly, accelerated the Kaine speculation.
On Wednesday, though, Kaine spoke again, this time in an effort to tamp down the speculation. Asked by NBC News if he'd recently spoken with Obama, Kaine replied: "No, not for, gosh, for a number of weeks. Since before his trip. And I really don't have any idea about where the process is."
Exactly what is going on is anyone's guess. But if the Obama campaign is following the usual road map for VP announcements, Monday's news was almost certainly overblown. Otherwise, the campaign would have taken clear steps by now to indicate that an announcement is near. As it is, Kaine is starting to look a little foolish, running his mouth while Obama and his team sit on their hands. It's not in any presidential campaign's interest for a possible running mate to look like this.
The most-discussed theory seems to be that Obama's campaign was launching a trial balloon, testing the reaction of the press and key party figures to his potential selection. But if that's the case, they can't be too surprised by what they've heard: a little grumbling about Kaine's blandness and inexperience (and the fact that a Republican would inherit his governorship if he were elected VP), disappointment from some Hillary Clinton diehards, and otherwise mostly polite acceptance. None of this is a surprise – Kaine simply doesn't ignite much passion, from supporters or detractors – and if Obama had been leaning toward him, it's hard to believe the last two days would suddenly have given him pause.
A more conspiratorial possibility has the Obama campaign using the Kaine chatter as a smokescreen to give them cover while they pursue the real VP hunt – with Kaine either as an unwitting victim or in cahoots with them. But this seems like an unnecessarily elaborate ploy. The Obama campaign has excelled at keeping secrets (remember when the candidate ditched the press to meet Hillary?) and has maintained a remarkably leak-free running-mate search operation. That they would suddenly feel compelled to resort to such complex chicanery seems farfetched.
The most likely explanation is that Kaine is under serious consideration, but no more or less serious than the other names mentioned in the press this week – and that much of the Kaine-centric speculation is being fueled by his own side. After all, if Kaine's statement to NBC on Wednesday is accurate, his last direct contact with Obama was actually "weeks" ago. Presumably, he's not the only VP prospect for whom this is true.
It's not too hard to imagine a sequence of events this week that involved: (a) an accurate leak that pegged Kaine as being high on Obama's list; (b) overeager Kaine loyalists talking up his prospects to the press. If top aides to Sebelius and Bayh and others refrained from doing this, it could easily explain why Kaine has received the lion's share of attention this week.
Maybe Obama will announce Kaine tomorrow. But there does seem to be a certain protocol to the VP process. When a presidential campaign wants a list of finalists to be circulated in the press, a final decision follows quickly. For reasons of political expediency (a desire to capitalize on the buzz generated by the speculation) and personal decency, it's bad form to leave prospective VP's dangling. In other words, if Obama had settled on Kaine, we'd know by now.