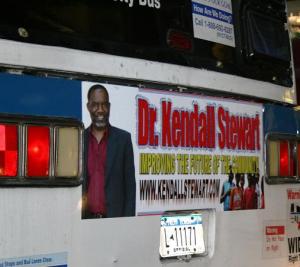 A reader emailed this photo of a bus near Atlantic Avenue that bears an ad for City Councilman Kendall Stewart. Stewart is running for State Senate against incumbent Kevin Parker and another challenger, City Councilman Simcha Felder.
The slogan is, "Improving the Future of the Community."
Up until recently, Stewart was calling himself the "Million $ Man," a reference to how much money he brings into the district. Even then, it was a slightly off-key message, since two of his staffers has just been charged with pocketing money meant for the nonprofit they were supposedly running.