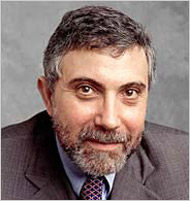 Paul Krugman in The New York Times this morning on Freddie Mac and Fannie Mae:
[T]he storm over these particular lenders is overblown. Fannie and Freddie probably will need a government rescue. But since it's already clear that that rescue will take place, their problems won't take down the economy.
Furthermore, while Fannie and Freddie are problematic institutions, they aren't responsible for the mess we're in.
Still:
… Fannie and Freddie can't be allowed to fail. With the collapse of subprime lending, they're now more central than ever to the housing market, and the economy as a whole.