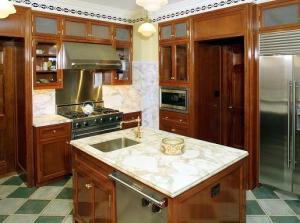 In tomorrow's Manhattan Transfers, I write about a seven-bedroom duplex (actually, a "gym/bedroom" makes it eight) that went on the market this month at 1030 Fifth Avenue for $47.5 million, one of the biggest apartment listings ever in New York.
(See Vespa-driving broker Sharon Baum's listing for good floor plans, or certified Lamaze instructor Fritzi Kallop's listing for the good interior shots.)
The sellers are an orthopedic surgeon named Dr. David Fleiss, and his wife, Karen, a Barnard trustee who founded the hedge fund KMF Partners. (If you're into this sort of thing, you may also remember Ms. Fleiss from an apartment deal with Brown Bunny director Vincent Gallo.)
Although she eventually hung up on me, Ms. Fleiss had this to say about the deal: "It's a big apartment, it's a very big apartment–we don't need a gigantic space."
I asked if it's good time to be selling: "I'm buying something else, so what difference does it make to me? None! Zero!"
I asked about the price tag: "I'm not going to respond that."
I asked if she knew that no Manhattan co-op has ever sold above $46 million: "I'm not going to respond to that either."
I asked if I could call back later, and then when she picked up she said: "This is not a good time to be calling anybody," and hung up. Still, there's more to come in tomorrow's paper.