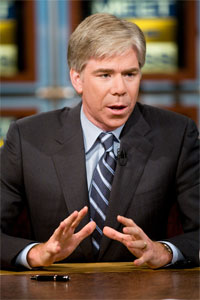 What will become of 37-year-old NBC News correspondent David Gregory, wonders Felix Gillette, since "lame-duck presidents create lame-duck White House correspondents."
John Koblin looks at the new advertiser-friendly glossies on the horizon—WSJ from The Wall Street Journal, FW from The Washington Post, Manhattan and others—and notes, "the traditional, cozily amorphous job of the editor—rumpled visionary, bold procurer, acid social critic, lover of words!—is starting to look very different. Sort of…crisper… As envisioned by businesspeople, the New Editor seems a kind of bland, affable and well-connected creature … much like, well, a businessperson."
Is The New Yorker's James Wood becoming a guru for writers? Leon Neyfakh checks out the tips offered in Mr. Wood's new book, How Fiction Works, and asks, "Who will heed them? And will the fact that Mr. Wood has laid them out so plainly in this succinct volume—something few literary critics, to say nothing of book reviewers, have the heart to do these days—increase the likelihood that aspiring writers will eventually absorb and adhere to his standards?" Plus: David Carr.