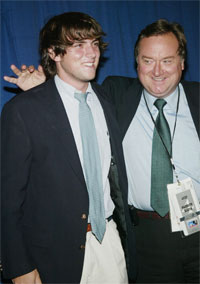 Confirming rumors that have been swirling around for weeks, NBC News executives today announced that Luke Russert (son of the late Tim Russert) will be joining the network's deep roster of political correspondents. His first assignment, according to today's press release, will be as a correspondent at large focusing on youth issues at the upcoming DNC and RNC conventions.
More from the release:
Luke Russert recently graduated from Boston College with a double major in History and Communications. Since March of 2006, he has co-hosted the critically acclaimed sports radio talk show "60/20 Sports" with political pundit James Carville on XM Satellite Radio. On "60/20 Sports" he has interviewed the likes of former President Clinton, former President George Bush, Bill Russell, Cal Ripken Jr. and Lance Armstrong. Luke is the son of the late Tim Russert and of Vanity Fair writer Maureen Orth.