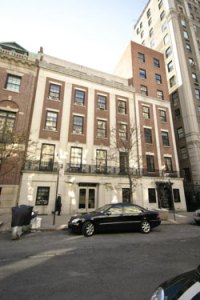 Twelve months and 26 days ago, according to city records, the nonprofit adoption agency Spence-Chapin sold its 24,463-square-foot headquarters at 4-8 East 94th Street, built from three 19th-century row houses, to Richard Mack, a managing partner of his father's multibillion real estate investment group, Apollo Real Estate Advisors. He paid $23 million.
But real estate executives are wilier than nonprofit adoption agencies. After receiving a permit from the Landmarks Preservation Commission in December to essentially replace an un-pretty three-story addition, built above a third of the house, with a full 60-foot penthouse, among other upgrades, Mr. Mack put the property back on the market this week.
He's asking $59 million, according to Carrie Chiang's listing.
Though that's $36 million more than he paid last year, Mr. Mack, who didn't return calls to his office, has spent only $65,000 on the house, according to estimates on city construction applications. Most of that money went to gutting the house, which means the interior renovation, not to mention everything approved by the commission—building that new penthouse, renovating the facade so that the mansion's odd-fitting third section matches up, building a two-story addition in the backyard—will be up to the buyer.
But the place is massive: basically two and a half times the threshold for a townhouse to be considered a mansion. "Mine is the cheapest!" Ms. Chiang said, comparing it to the year's other giant townhouse listings, an East 68th Street mansion listed for $64 million by Paula Del Nunzio, and a slightly bigger East 71st Street townhouse listed for $75 million by Serena Boardman.
"That's, what, a 40-footer?" she said about Ms. Boardman's (it's 45 feet wide). "Paula's is only a 36-footer." Reached at her office, Ms. Del Nunzio said: "The 90s are not as valuable as the 60s and 70s. The 90s cannot be compared to the 60s and 70s as a location. That's a proven fact, it's not an opinion."
mabelson@observer.com