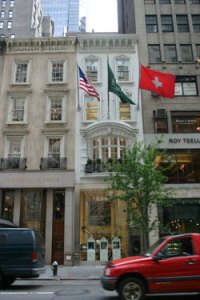 Under the new leadership of the dashing Billy Macklowe, Macklowe Properties appears to be lumbering ahead with its complicated and complication-ridden Drake Hotel development.
Either that, or Macklowe Properties is busy assembling a more lucrative parcel in the East 50s around Park Avenue to put on the market—Macklowe was reportedly considering selling the mega-site in May, before successfully selling the GM Building to Mort Zuckerman's Boston Properties for a record-breaking $2.8 billion.
Either way, Audemars Piguet, the sole tenant in 40 East 57th Street, is out. Capping 14 months of negotiations, Macklowe has bought out the remaining 10 years on the Swiss watchmaker's lease. According to city records, it cost Macklowe $16.6 million.
The watch company's offices will move by Feb. 15 to 137 East 57th Street, where it will take 15,000 square feet.
"He wanted us to be out, because he wants to bring all the buildings down," said Francois Bennahmias, CEO for the Americas of Audemars Piguet. "He wants to build either a 30-floor building or 50 floors."
The deal with Macklowe allows the Swiss clockmaker to also relocate its retail space from the ground floor of 40 East 57th to the former Dana Buchman store across the street at No. 65, adjacent to the Four Seasons hotel. That move, to be completed by next July, will nearly double the store's size, from 1,800 square feet to 3,000.
A spokesman for Macklowe Properties wouldn't comment for this story. But earlier reports said Macklowe was planning a 70-story, mostly residential skyscraper. On Tuesday, an investment sales expert said he'd heard that the firm was now planning a tower with a retail base, a hotel in the middle and condos on top.
Macklowe also owns 44 and 50 East 57th, and has development rights for 42, 44, 48 and 50 East 57th Street, all of which border the larger Drake site at 434 Park, at 56th Street.
The elusive character of the planned building is no surprise—the Macklowes, father Harry and son Billy, typically shun the press. And the development has been overshadowed for months by the Macklowes' other, better-publicized troubles (from which the family finally appears to have extricated itself).
drubinstein@observer.com