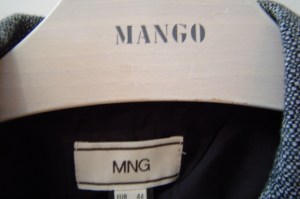 Spain's skimpy, ubiquitous, mass market clothing chain, Mango, is venturing where no Western retailer has been before–at least since the 2003 war–by opening a branch in Iraq, WWD reported today.
Undaunted by the political instability, sporadic violence, and relatively more modest style of dress that prevails in even the relatively peaceful, liberal Kurdish region of Northern Iraq, Mango's president of expansion Isak Halfon told Women's Wear Daily that the one million people in the city of Arbil are "starving for something like this."
Unlike Mango's Western branches, the Iraqi flagship won't carry the typical skin-tight, midriff-baring, cleavage-flaunting, provacative attire, but a conservative line designed by Lebanese designer Zuhair Murad, tailored to the Middle East. The mini-skirted manequins and pouting coquettes found in store windows in places like Soho, for instance, will give way to the demure tunics and long-billowy dresses found in Mango branches in Saudi Arabia and Kuwait.
With 84 locations in the region, stretching from socially liberal bastions like Lebanon, to Gulf countries where the hijab is mandatory, the Barcelona-based fast-fashion chain is no stranger to the Middle East—in total it accounted for 13 percent of Mango's $2.08 billion 2007 revenues—and 22 new stores will open there during the next year.
To put things in perspective, Mango only has 20 American stores and much less ambitious U.S. expansion plans of about five or six new locations annually.
Mango has learned to weather tumult elsewhere in the Middle Eastern. It briefly closed two Beirut branches during the Summer 2006 war in Lebanon, but the stores have more or less remained open since, even after a car bomb exploded in the parking lot of a neighboring mall last spring.
Despite its solid Middle Eastern track record, the question remains whether safety concerns will curb the buying habits of Arbil's aspirational consumers.