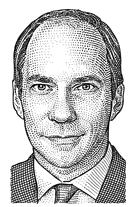 Last time we heard from Marcus Brauchli, he was eating a Vidalia onion-crusted petite filet mignon at the Ritz-Carlton in Washington when word came down that he was being dropped as editor of the Wall Street Journal.
Just over 10 weeks later, he has been named executive editor of the Washington Post. Katharine Weymouth wrote in an e-mail that she will introduce Mr. Brauchli tomorrow morning at 11 a.m.
Mr. Brauchli brings a pretty fabulous résumé to the job–both as a foreign correspondent, with most of his time spent in Asia, and as national editor of the Journal. He also, of course, was the Journal's managing editor, but he had few accomplishments and that's for two obvious reasons: He spent little over a year in the office and most of that time was spent trying to shepherd (unsuccessfully) changes for Rupert Murdoch. He has been described by both current and former Journal staffers as someone who knows how to work the system–that is, he knows how to secure personal power. In that respect, it's not surprising that he was able to charm Ms. Weymouth and beat out Times digital editor Jonathan Landman and Post managing editor Phil Bennett for the executive editor sweepstakes.
Mr. Brauchli will take over a newsroom with deep divisions between the paper's digital side and the newsroom proper. Expect to hear how he'll solve that in his speech tomorrow. Also expect him to acknowledge that he's never stepped foot in Washington other than for fancy dinners at the Ritz-Carlton–he oversaw political coverage as national editor, but he's always worked from New York or Asia. Not only will he have to learn an entirely new newsroom culture for the first time in decades, he'll have to figure out how to get himself around the city too.
He will become the paper's third editor in 43 years, and it all begins Sept. 8.
Here's the announcement:
ANNOUNCEMENT
I am pleased to announce that Marcus Brauchli will become Executive Editor of The Washington Post, effective September 8. Marcus brings a wealth of experience, both as a journalist and as an editor, that will help us navigate the new world of media – honoring and building on the standards of journalism blazed by Ben Bradlee and Len Downie – and move us forward to a new and bright future.
I will introduce him tomorrow, Tuesday, at 11 a.m. in the newsroom downtown and you will hear from him directly.
Marcus will oversee the editorial operations of both the newspaper and washingtonpost.com; Jim Brady, Executive Editor of washingtonpost.com, and Phil Bennett, Managing Editor or the newspaper, will report to him.
Marcus was named Managing Editor of The Wall Street Journal in April 2007. As Managing Editor, Marcus oversaw the Journal news operations, both in the U.S. and internationally. He led the integration of the Journal's print and online newsrooms and put an emphasis on breaking news and dynamic content online and while focusing the newspaper on original or exclusive
news. He also oversaw planning for a new luxury lifestyle magazine that will launch this coming September.
Before becoming the Journal's managing editor, Marcus was a deputy Managing Editor at the Journal. In that job, he led the newsroom team that redesigned the newspaper that launched in January 2007. Earlier, as Global
News Editor, Marcus oversaw the redesign of the Journal's Asian and European editions. He was also closely involved with the 2005 launch of the U.S. Journal's Saturday edition. Before that, as National Editor, he
helped guide the Journal's coverage of two U.S. presidential elections; the stock-market downturn and corporate scandals of the early part of the decade; and the Sept. 11, 2001, terrorist attacks, for which the Journal – its offices damaged and evacuated that day – won a Pulitzer Prize.
Marcus's career at Dow Jones began in 1984, when he joined the company as a national copyreader for AP-Dow Jones News Services. Later that year, he became the agency's Hong Kong correspondent, covering Hong Kong, China,
Taiwan and the Philippines. He moved to Stockholm in 1987 as Scandinavia correspondent for The Wall Street Journal Europe. He became the Journal's finance and economics reporter in Tokyo in 1988. In late 1992, Marcus
returned to Hong Kong as Asia correspondent. He reported extensively from India, Pakistan, China and Southeast Asia, before moving in 1995 to Shanghai as the China Bureau Chief.
As a reporter, Marcus reported and wrote on a wide range of social, political, economic and finance news. Among the stories he covered were the sweeping economic and social changes that have transformed China in the
last two decades, the fall of both the Marcos and Suharto governments, financial crises in Japan and Asia, and sectarian strife and political change in Pakistan and India.
Marcus is a native of Boulder, Colo., and a graduate of Columbia University. He was a 1991-92 Nieman Fellow at Harvard University and led or participated in Journal teams that won two Overseas Press Club awards and two citations for excellence. He is on the board of directors of the Overseas Press Club and the International Center for Journalists, and is an advisor to the Knight-Bagehot Fellowships program at Columbia. He also is a member of the Council on Foreign Relations.
Marcus is married to Maggie Farley, UN Bureau Chief of the Los Angeles Times; they have two daughters, Aria (8) and Zoe (6).
Please join me in welcoming Marcus and his family to Washington and to The Washington Post.