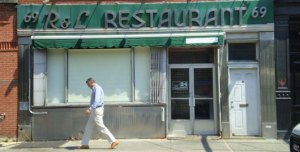 Joanne Lucas shocked the New York restaurant world last week with an extraordinary announcement.
After months of searching for some deep-pocketed tenant to replace the hugely celebrated restaurateur Florent Morellet, whom she infamously booted from her building at 69 Gansevoort Street amid a lengthy dispute over rent and taxes, Ms. Lucas had finally decided to leave well enough alone.
She would reopen Mr. Morellet's famous Florent restaurant on her own, less than 48 hours after its highly publicized June 29 closure. Same menu. Same staff. Same iconic green storefront. Only without the eccentric Mr. Morellet at the helm. Or his neon pink "Florent" sign in the window.
The place would simply revert to R&L Restaurant, its prior moniker before Mr. Morellet moved in and turned her family's formerly dingy diner space into a popular meatpacking district destination. (The old R&L signage still hangs above the door.)
For someone who seemed so eager to cash in on the neighborhood's supposedly sizzling hot real estate market—with asking retail rents along nearby 14th Street now soaring upward of $500 per square foot—it was an abrupt about-face.
It simply begged the question: After Apple, Carlos Miele and Stella McCartney had all moved into the area, had meatpacking retail finally peaked?
How ironic for Mr. Morellet, whom many credit for pioneering the neighborhood's stunning rise from seedy to chichi, if his forced retirement after 23 years in business were to also signal the area's economic downturn.
Sources familiar with the situation insist, however, that this latest bizarre twist in the continuing Florent saga had more to do with the landlord's own eccentricities than any mere whims of the market.
"We had offers at the numbers that we needed to," said Matt Cohen, senior director of retail services for the Lansco Corporation, who spent nearly six months shopping the 1,500-square-foot eatery space to other restaurateurs, as well as altogether different types of retailers.
Ms. Lucas had been asking for around $350 per square foot annually, equating to roughly $44,000 in monthly rent for a restaurant of that size—a hefty hike from the mere $6,018 that Mr. Morellet had been paying.
Instead, she oddly opted for no rent at all.
"Joanne decided that she wanted to move forward under her own business," said Mr. Cohen, who seemed as surprised as anyone by Ms. Lucas' stunning reversal, which only happened within the past two weeks, he added. (The news was first reported last week by the foodie blog Eater.)
"I don't think anybody expected it," he said.
Anybody except perhaps her long-standing tenant, Mr. Morellet.
"People don't get the full picture about her," the renowned 55-year-old restaurateur explained, sitting on a bench outside his packed eatery during its splashy closing party this past Saturday night. (He was constantly interrupted by well-wishers asking to take his picture.)
"A year ago, she was offered millions and millions to buy the building, and she couldn't get herself to sell it, because she wanted to keep it in the family," Mr. Morellet said.
"I knew that when push came to shove, or when the contracts came across, eh, she couldn't do it," he continued. "She called me yesterday after she read my response to thank her, and you know, she said, 'These people would spend a million to gut the place and I just can't.'"