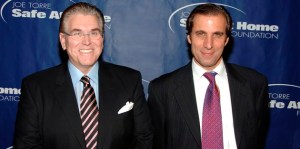 So just what is the future of New York's most famous radio sports-talk show, Mike and the Mad Dog?
We don't really know, either! Newsday reported last month that Mike Francesa and Chris "Mad Dog" Russo were on the verge of splitting up after two decades on the air together. Both Mike and Chris have kept mum about it, and earlier this week Mike finally went on the air to talk about it … but rather elliptically. As wonderful as Mike Francesa is–and he is wonderful–sometimes the pressure of speaking on the air for six hours a day can make someone sound slightly confused. And if you can make sense of this transcript, where he talks about their future–and refers to listeners and media reporters as "somebody" and the rumor of the show's potential collapse as "that one"–can you tell us?
Our next show together will be Aug. 5, to give somebody something else to debate about or muse about or to think about, come up with some scenarios for that one, on Aug. 5 up at Giants camp. Then we'll move it down to Bar A later in the month of August to give everyone a chance to debate about that one and kind of come up with some scenarios for that one. That one's been called the good-bye show by a lot of people I've noticed here and there. That has been termed that all summer. I have heard that referenced in different places. So stay tuned for that.