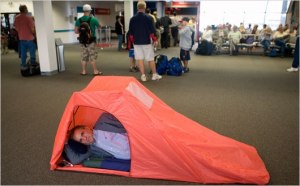 Today's New York Times article about the increasing frequency of overnight airport stays, and the increasing callousness of airlines toward their marooned passengers, has a fascinating tidbit about something called a Mini Motel:
An unscheduled overnight stay at a German airport inspired one business traveler, Frank Giotto, the president of Fiber Instrument Sales in Oriskany, N.Y., to create the Mini Motel, a one-person tent complete with air mattress, pillow, reading light, alarm clock and pillow…
Asked what airports would think of a tent city of his Mini Motels, Mr. Giotto expressed confidence.
"People sleeping in chairs don't seem to bother them," he said. "We could be forcing the airports to come up with a solution to respond to the tremendous need."
According to the product Web site, the 4.7-pound tent comes equipped with an air mattress, pillow, bed sheet, alarm clock, reading light, tooth brush and tooth paste, ear plugs, and something called "eye shades."
Admit it. You want one.