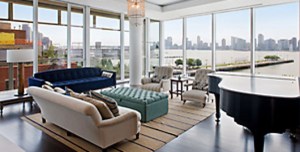 Natalie Portman would like to ditch her three-bedroom, three-bath apartment in Richard Meier's West Village glass tower at 165 Charles Street, the Post reported this morning.
Ms. Portman, who bought the 2,500-square-foot place in 2005 for $5.7 million, has placed the apartment on the market for $6.55 million. The listing went to Andy Fink and Nancy Teague at the Corcoran Group.
Mr. Meier's West Side buildings, which appear entirely see-through from the outside, have nonetheless drawn privacy-seeking celebrities like Heather Graham, who just bought a place in the Meier-designed 173 Perry Street. Martha Stewart's daughter Alexis and Mr. Meier's own daughter Ana both reside at 165 Charles.
Lately, the demure Ms. Portman has been spending quite a bit of time in Los Angeles with her boyfriend, long-haired Venezuelan-American folk singer-songwriter Devendra Banhart. Perhaps the pair will be seeking out something a bit less shiny.
[Via Curbed]