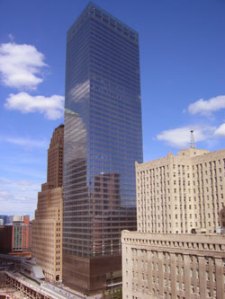 The number of firms looking for at least 150,000 square feet in Manhattan, and the number of buildings that can accommodate them, could more or less now each be counted on one hand. Some contend that the number continues to shrink as the economy worsens. Other's say there's always a small universe of big players. Either way, brokers say they find themselves chasing after the same few lookers again and again.
The belle of this dreary ball is probably NBC Universal, which is looking for a place to house its new consolidated business operations center, which will include offices for chief executives like Jeff Zucker; a child-care facility; a conference center; a health care and fitness center; and an employee commissary.
And so when Lynn Calpeter, NBC Universal's chief financial officer, visited Silverstein Properties' 7 World Trade Center this month, tongues started wagging, particularly since she's part of a caravan of muckety-mucks that has passed through the angular tower in recent weeks. Even Mr. Zucker, the president and CEO of NBC Universal, has stopped by.
Sources say that NBC is considering taking the top 10 floors of the 52-story building as well as assuming the remainder of ABN AMRO's lease, bringing the total potential space to 13.5 floors, or 540,000 square feet.
Yet NBC is also said to be looking elsewhere, including at the under-construction 11 Times Square. If the media conglomerate is serious about 7 World Trade, it had best move post haste. HSBC Bank is eyeing the top seven floors of the building, a space that adds up to 280,000 square feet.
NBC wouldn't comment for this story. Nor would Larry Silverstein's folks. HSBC spokeswoman Linda Recupero would say only that "HSBC regularly reviews its real estate holdings in order to evaluate and leverage their overall value, and such reviews include our office property at 452 Fifth Avenue in New York."
NBC may be the belle, but there are a few other pretty ladies also catching brokers' eyes. Law firm Orrick, Herrington & Sutcliffe, quite the hottie, is looking for 300,000 square feet somewhere (rumors about the Citigroup Center persist, yet remain unconfirmed). Banks Allianz, Natixis, and WestLB and law firms Paul, Weiss, Rifkind, Wharton & Garrison and Fitzpatrick, Cella Harper & Scinto are also playing the field.
A field that is, as any real estate expert will tell you, a limited one. Manhattan is an island, after all, and large space remains scarce. Aside from 7 World Trade and 11 Times Square, there's the Citigroup Center, 277 Park Avenue, 120 Park, 825 Eighth and, well, not many other towers with a lot available.
With the market softening, and landlords increasingly anxious, it probably makes sense for these would-be leasers to play hard-to-get. If they wait long enough, it might just become a tenant's market.
drubinstein@observer.com