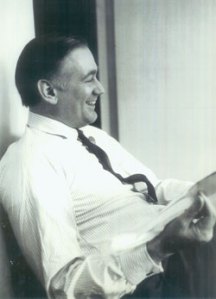 When I think of Clay Felker, which is often, it's at the Peacock Alley in the Waldorf Astoria. I had just come to The Observer in 1994 and I was scared and sweating. Clay offered to meet with me once a week and kick around story ideas. I used to bring a stack of napkins. They were, by the end of breakfast, black with scrawl: call David Garth, Milton Glaser, Mrs. Astor; water, Moynihan, women and money, Brooklyn as the new Paris, Columbia vs. N.Y.U., water mains, Murdoch, CBS News, power.
Clay would sit at the Waldorf and dictate. His Felkerian takes on the world, as many have said, added up to a nonfiction novel embodying Clay's worldview: power was his subject, exuberance was his drive. His giant eyes would widen, he would occasionally raise one eyebrow like the English actor Denholm Elliott and proclaim a subject news. There was the occasional Felkerian yelp of laughter: HA! Or the Felkerian feigning of disgust, very G.I. in its manly lack of four-letterness: CHRRR-IST!
There were Felkerian adages:
1. Never hold your best stuff.
2. Put something shocking at the top of the page.
3. Women are the best reporters.
4. Point of view is everything.
5. Personal is better.
6. Never hold your best stuff.
There were instructions about calling writers, some of them too young, some too old, some cronies, some princes, some just right. There were design edicts about tearing the front page into pieces, using more illustration, less photography, bigger type. There were declarations about making the paper more "female," with more ideas.
"It's a newspaper of interpretation," he used to say. Then: "Point of view is everything."
The last statement is as true as anything I know about the kind of journalism Clay Felker taught a generation of reporters and editors. For him, point of view was everything. It was not only an edict, it was a revolution. Clay came from a generation that was killing the newspaper writer, in which the dominance of The New York Times and the mystical insularity of William Shawn's New Yorker were so powerful that the blaring, clattering bumptiousness of New York newspapers that had come to dominate the press in the 19th century through the Menckenian 1920s was being squashed into a white-collar, gray-suited blur.
Clay Felker, of Webster Groves, Mo., son of the managing editor of The Sporting News and the women's editor of the St. Louis Post-Dispatch, of Duke University, of Life, Esquire and the New York Herald Tribune, had a different point of view. Somewhere on this earth and even within this city there are still men and women who remember when Clay Felker was a giant with a delicate smile whose melodic, brassy belt could stop New York cold; there are a fewer who remember before that, when he still was a jostling, ambitious, impossible tyro, whose ambition—which he would turn into a journalistic petrochemical—was still burbling: he was the young Life magazine reporter who ended Joe DiMaggio's reign in center field at Yankee Stadium by proving that his arm was ailing. Clay liked to tell the story of Gary Cooper showing up at a photo shoot near the end of his life and creating the illusion of vitality with an almost indiscernible move of the tip of his cowboy boot.
But nothing Clay did was a tiny tip of a boot. Clay reinvented the American magazine in New York magazine with huge type and big noises, journalistic ambition, the salvaged egg he pulled from the ashes of the collapsed Herald Tribune. Vitality was his game, ambition was his fuel, manliness was his strength. As a younger man, he was a blasting force of nature; as an older man, he became the sweetheart of the Western world, beloved to students, girl reporters and acolytes.
He reinvented the American magazine, not just in New York with New York, but with his noise and chest-bumping assault on the power structures in the city. Clay Felker, who you may not have heard of, but who was the last great magazine editor of the 20th century, was a strange amalgam of exuberance, innocence and pragmatism.
His greatness may come down to at least these two things: He re-infused New York City with a sense of itself as the bourgeois capital of the world at exactly the moment the world was counting the city out. And he gave journalists a sense that they were up to the task of remaking the world. He gave reporters—Tom Wolfe, Gloria Steinem, Richard Reeves, Ken Auletta, Jimmy Breslin, refugees from newspapers and politics—the sense that they were writers who could change the world. One of Clay's great powers was that he knew that an editor's task was chest-bumpingly governmental: to make a journalist feel supported by a power greater than him- or herself.