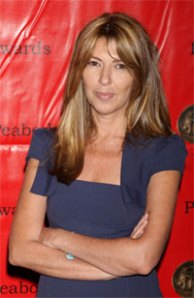 Nina Garcia, who's still technically employed by Elle through the fifth season of Project Runway, has reportedly moved into her Marie Claire office and has begun working on projects, reports Women's Wear Daily.
But Ms. Garcia's co-workers at the magazine are already apparently displeased with her demands as she began organizing for fashion shoots in the January issue. According to WWD, "sources said Garcia's requests for high-end designer wares to be featured in fashion spreads can at times be at odds with Marie Claire's more mass-market sensibilities."
A Marie Claire spokesperson said, "Nina is on contract with Elle that prohibits her from working for Marie Claire before Sept. 1. She has been in the office only to work out her travel schedule for the European fashion shows this fall."
While Ms. Garcia has already been confirmed to remain a judge after the show moves to Lifetime, it is still not clear if Marie Claire will take Elle's spot as the sponsor.