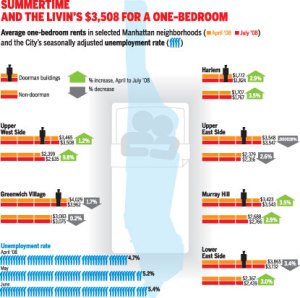 Manhattan apartment rents will likely exit the summer as high as—if not significantly higher than—they entered it. It wasn't supposed to be like this, of course: Everything was going to change because of the flaccid local economy, wilting under the strain of Wall Street layoffs and inflated living costs. Deals would abound.
But the layoffs have been gradual: about 2,000 in the city's financial services sector in the past year, according to the state's Labor Department; and the number of private sector jobs increased annually just 0.6 percent. The city's unemployment rate in June was up to a seasonally adjusted 5.3 percent, from 4.8 percent in April, but still nowhere close to the nearly 6 percent at the start of the year.
In other words, the local economy did not turn bad quickly enough for Manhattan renters this summer. Average rents either increased, decreased relatively slightly, or barely changed at all since the spring, according to a new report from brokerage the Real Estate Group New York. The report tracks average apartment rents south of Washington Heights.
Between April and July, the average monthly rent for an Upper West Side two-bedroom in a doorman building jumped 6.9 percent, to $5,441. On the Upper East Side, the same two-bedroom averaged $5,568 in July, a 9.2 percent increase over April, the final month before the traditional summer apartment-hunting season starts.
Some rents in some neighborhoods did drop, on average—Chelsea non-doorman one-bedrooms dropped 9 percent from April to July—but the general trend was one of unremitting steadiness: no sharp peaks, and, more importantly, no deep valleys.
Also, home sales have declined steadily over the past 12 months, in Brooklyn and Manhattan particularly—more than 43 percent in Brooklyn for the year ending June 30, according to appraiser Miller Samuel. Fewer people are buying, which means more people are renting.
At the same time, there are simply more people here, period. According to the latest census estimates, of the top 10 fastest-growing cities from July 2006 to July 2007, New York was the only one not in the southern United States. Most New Yorkers (more now than ever!) are renters, so one can assume that most of the 23,960 newcomers in that 12-month period were renters.
Such newcomers only added to the already fierce apartment competition in Manhattan, driving demand at a time when a slackening economy was supposed to spur more landlord concessions and deals. Not so, however, as New York suffers (or benefits—your perspective) from the peculiar affliction of still being a popular place to live despite now being a rougher place to find and keep work.
Will it end? Take hope! There's still time for things to heard further south.
As the Labor Department's June report noted, the local job market could take more wallops from a sagging tourism industry after the summer because of high airline prices and Europe's shakier economies; and Wall Street appears to have been belted sufficiently off its pedestal. The 2,000 layoffs in the past 12 months should tick up considerably.
Still, for prospective tenants, the summer of 2008 will leave much as it came into Manhattan. Here's to the fall.
tacitelli@observer.com