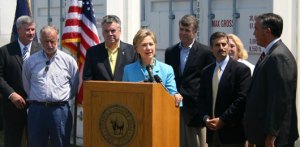 Hillary Clinton is about to get back out there.
The public has seen surprisingly little of her in the weeks following her obligatory post-primary unity appearances with Barack Obama, as she operated under cover of headline-resistant Senate releases like "Senator Clinton Welcomes Girls Nation Representative from Flushing" and "Senator Clinton Welcomes Passage of Her Measure to Improve Training for Medical Professionals in Underserved Areas."
This was a function, in large part, of the fact that the Obama campaign has simply had priorities—like, say, jetting around the world in a high-wattage display of commander-in-chief-ness—other than deploying Mrs. Clinton. Apparently, they're ready now.
According to Mrs. Clinton, who talked to a pair of reporters after a July 26 event in Yaphank, on eastern Long Island, the Obama campaign had asked her to campaign in "several states." (A source in the Clinton campaign, which still employs a staff, later confirmed that in the first week of August the senator will be visiting several "battleground states," at the request of the Obama campaign.)
At another event in Westhampton, she suggested that the campaign appearances had already been in the works, and that she planned to use her own public commitments to stump for Mr. Obama as well.
"We have had a very constant, close communication," she said. "I will be traveling out to the West Coast, I guess, Thursday, to speak before another union that endorsed me"—the American Federation of State, County and Municipal Employees, whose members are meeting in San Francisco—"to rev them up and get them behind Senator Obama. So it's been constant. We're just going to keep going until we win."
Mrs. Clinton's heightened activity for the Obama campaign comes as the presumed nominee seems to be narrowing his vice presidential selection process, and by most accounts she has been squeezed out of the running. On Monday, even Terry McAuliffe, one of her biggest backers, told MSNBC that he expected Mrs. Clinton to deliver a speech on Tuesday night of the Democratic convention. (The vice presidential nominee usually speaks on Wednesday night.)
Asked in Yaphank if she had been vetted—traditionally the most concrete sign that an individual is under running-mate consideration—Mrs. Clinton smiled and said, "For a lifetime."
In the meantime, Mrs. Clinton has been covering her bases back in New York.
On July 26, an exceptionally bright and warm summer day, Mrs. Clinton looked like the candidate who came in from the cold. She wore a long-sleeved blue jacket and black pants and led a small procession of junior aides and Secret Service agents to a podium in front of Federal Emergency Management Agency trailers. "I'm ready, I'm ready," she told well-wishing local officials. "Things are good."
Representative Peter King, a Long Island Republican who is friendly with the Clintons, introduced New York's junior senator as the "heavy artillery" brought in to fix the local problems. She stood with her hands folded in front of her waist and pointed her blank gaze toward the small crowd of public safety officials, two reporters and a couple of photographers who hardly clicked their cameras. New York, Suffolk and American flags hung limply behind her.
Mrs. Clinton spoke about the pleasure she takes in serving with "people who understand that you've got to bring it down to the local level," and talked with great urgency about the importance of FEMA restoring emergency supplies to an island threatened by natural disasters.
After the event, Mrs. Clinton told The Observer she was perfectly content where she was.
She said, when asked, that she had no interest in running for governor—one persistently rumored scenario, based on the premise that she needs "executive experience" to run for president in the future—because she's "very happy being a senator from New York."
"I love my job and I love the opportunity to work across party lines with all different levels of government," she said.
What she was really interested in, she said, was getting out on the road to support Mr. Obama.
"It's been, for me, a commitment that transcends me," she said. "It's something I believe with all my heart because if we don't have a Democratic president, then a lot of what I care about, from universal health care to getting the economy working for working families and all the rest that I advocated for, is just not going to happen."
She expressed optimism that Mr. Obama's professed 50-state approach to campaigning, an idea her campaign often derided during the primary, was the correct path to the White House.
"It's important to expand the map, and that is certainly what they have been advocating for and they have the resources, both the people power on the ground, and the financial resources," said Mrs. Clinton. "It's terrific that they want to fight for Democratic votes in every state in our country. And obviously, that's where I hope we can be successful in places that we never thought we could be because we haven't been in the past. This is a ground-breaking election, and I think there will be a lot of different opportunities to mix up the electoral map, and if you're not there, it won't happen."