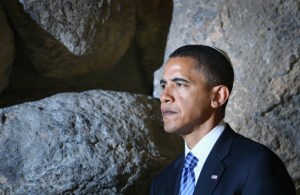 Time is dwindling for Obamamaniacs who hang their allegiance on their walls. Russell Simmons' Art for Life auction ends tomorrow (July 24) at 2 p.m., and with it, the opportunity to pay over $100,000 for one of three original and unique, soon-to-be iconic Obama 'HOPE' stencilings. These approximately 4 feet by 6 inch pieces were produced by Shepard Fairey on mixed media (or what appears to be newspaper and wallpaper) and can now be admired in reproduced poster form in college dorm rooms across the country. That is, if your friend was one of the liberal junkies keen enough to pounce on them when they were released on Jan. 30, before they quickly sold out.
So what is your hundred grand going toward? Russell Simmons' Rush Philanthropic Arts Foundation, which has provided grants, education, and mentoring to over 700,000 "underserved" (not undeserved) urban youth.
And if you can't hope to compete with the required $5,000 price increments, perhaps you can scrounge together some change for a McCain 'NOPE' t-shirt or sticker.