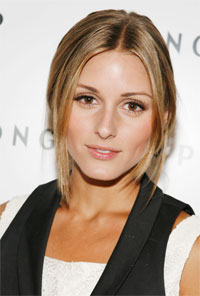 Socialite Olivia Palermo has come a long way over the past couple of years. She left that whole Socialite Rank mess behind her, started dating Wilhelmina model Johannes Huebl, and according to this week's Page Six Magazine, she's even moved out of her parents' Upper East Side home.
"I'm so excited to be living in my own home," said Ms. Palermo of her estimated $4,150 a month, one bedroom, Leonard Street apartment. "This is the space I love the most. You can see it the second you walk in. It represents me."
And what represents her is a Jennifer Convertibles couch, a zebra-print rug for her walk-in closet, couch cushions with little circular mirrors befitting a college gal's bedroom and framed photos of Mr. Huebl. Ms. Palermo's mother, Lyn Hutchens, a partner at interior design firm Hutchins-Lyle, helped her create "a 1960s look with a classic, old Hollywood feel."
But finding her place required looking at 17 rejects. "The first one I saw was a dark studio with a Murphy bed and I had no idea what it was," said Ms. Palermo. "My dad thought it was a good reality check for me."
And to go with her big girl apartment, Ms. Palermo is planning a big girl career. While she still has a year of media studies to go at the New School, she has her sights set on acting.
"I don't have to work—my parents have always supported me in everything I've wanted to do—but I want to," she said. "I want to be an actress and a brand, and then I want to do some producing." She's already hired the PR firm, Rogers & Cowan to represent her.
But you won't see her in the New York Hills spin-off that she's rumored to appear in alongside Whitney Port.
"I want to be a serious actress," she tells the magazine.