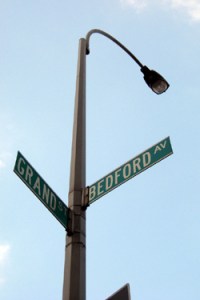 We've been wondering what kind of building would rise from the vacant lot on North 3rd Street between Bedford and Berry since construction began four months ago.
Could it be another luxe-residential complex for priced-out Manhattanites in the heart of Williamsburg hipsterdom?
Apparently, yes.
Though the project has not yet been christened with an appropriately yuppie-kitsch name–like say "Aqua" or "The Edge"–Joe Nicholas, who brokered the $22 million sale through Kalmon Dolgin Realty, confirmed that developer Quadriad Realty LLC is building an 85-unit condo on the 42,000-square-foot lot, boasting the prime Williamsburg addresses of 201 Berry Street and 248 Bedford Avenue.
Mr. Nicholas said construction should be complete in about 18 months, and the ground floor will accommodate up to eight retail spaces, depending on the tenants. "It could be less if we get a bigger tenant for the property," he said, "like a bank that wants offices and walk-in or a drug store."
Could it be true? We know it would be the death knell of bohemia in the 'Burg and all, but let's be honest: it's already on life support and we're sick of paying a $2 fee every time we go to the ATM.
Mr. Nicholas said it could be the last new condo project for a while, since there's just not that much vacant land in Williamsburg left to sell.
"Everybody who was going to sell or going to develop did already," he said. "The people remaining are predominately users or old-time investors who are going to wait to see what happens with all the rest of the buildings before they sell."