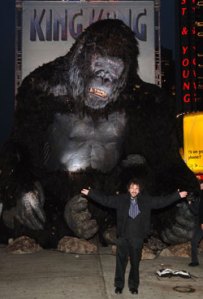 Peter Jackson, that jumble-haired, once obese New Zealander, whose massively fantastic Lord of the Rings trilogy makes the Star Wars franchise look like a feeble little video project by comparison, is not a name that simply pops up on a real estate deed in city records. (A Queens man named Peter A. Jackson and Peter G. Jackson of Brooklyn both make purchases in their own names, though that's different.)
So considering that the filmmaker's executive assistant Matthew Dravitzki, his New Zealand-based attorney Michael Stephens and his Hollywood power lawyer Peter Nelson are all listed in city records on twin penthouse purchases in Tribeca, it seems likely that Mr. Jackson has some new New York real estate.
According to those records, the two-unit, 10-bedroom, $17.35 million penthouse duplex on Franklin Street was bought in two separate purchases, adding up to one of Tribeca's most expensive apartment deals.
The buyer, who is listed anonymously but has Mr. Stephens' New Zealand address, signed the contract for both sprawls in January 2007, less than a week after Robert Shaye, the co-CEO of New Line Cinema, publicly vowed to never work with Mr. Jackson again because of a Rings money feud. The smaller north unit closed that June; the New Line feud was settled in December; and the $13.5 million deal for the south unit closed late last month.
Both belonged to the building's developer, the contractor Chris Clark, who had lived in the bigger unit and rented out the other. "It wasn't listed," he said about the second, "but when the right buyer came along, they wanted the privacy of having the whole top floors."
The Web site PropertyShark puts the two penthouse units at a combined 8,018 square feet; Mr. Clark said there was
another 4,000 square feet of outdoor space, including a thickly planted wraparound terrace, caked in apple and pear trees, tulips and clematis. "All you see," he said, "are plants and trees and the New York skyline."
Mr. Clark, who would comment on the apartment but not the buyer or the money paid, said his family's unit had "six bedrooms, plus a family room, library and a 2,300-square-foot living room. That's just on my side." (He said the smaller unit has another four bedrooms.)
That steroidal size can't really be found anymore: The top floor of the building was added by Mr. Clark thanks to a city planning loophole that has since been closed.
mabelson@observer.com