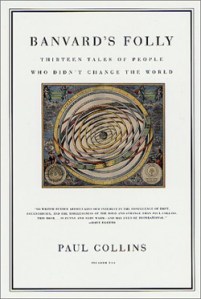 Every summer house should have on its dusty potluck shelves, in among the Agatha Christie and the John D. MacDonald and the J. K. Rowling, a copy of Paul Collins' Banvard's Folly: Thirteen Tales of People Who Didn't Change the World (Picador, $15), an almanac of delusion, failure and heroically misguided enterprise. Isn't vacation the best vantage from which to contemplate the sheer waste of epic flops?
The eponymous Banvard was a 19th-century American painter who grew rich with a vast moving panorama of the Mississippi—then went bust in a senseless commercial dogfight with P. T. Barnum. Among the other forgotten dreamers and maniacs celebrated by Mr. Collins are Delia Bacon, who was convinced that Shakespeare could never have written his 38 plays; John Symmes, who knew for sure that the earth is "hollow and habitable within"; and René Blondlot, whose great scientific discovery, N-rays—the radiation craze of 1904—turned out to be a trick of peripheral vision, a disappointment the proud Blondlot could never acknowledge.
Mr. Collins approaches his baker's dozen of brilliant losers with a sweet mix of curiosity, sympathy and good humor—and never a hint of schadenfreude. His book appeared in 2002, though I discovered it only last week, serendipitously. That's surely the right way to find a book about characters who, despite their best efforts, have slipped out of sight.
TWO FIRST NOVELS, one with a new voice, the other with a new everything:
ROSS RAISIN'S Out Backward (Harper Perennial, $13.95) comes to us through the peculiar dialect of Sam Marsdyke, a 19-year-old living with his parents on a sheep farm in North Yorkshire. A gangly misfit, thrown out of school unfairly, accused of molesting a younger girl, he's been tagged with the nickname "Lankenstein." When a family from London with a blond 15-year-old girl moves into a house half a mile from Sam's, hooking his obsessive, unsettling interest, the dismal trajectory of the plot is all too apparent. Never mind. What's important is Sam's fresh and powerful voice, studded with words like "frammeled," "flowtered," "powfagged" and "upskittled."
Here, for example is his description of his beloved sheepdog:
"Sal was close on full size now. The tan smudges on her cheeks she'd had as a whelp were now grown down her neck, meeting at the throat. She had a fair coat on her and all, soft, thick and glishy, and muscles building around her haunch from all the rabbit chasing and sheepdog training I had her at. She was getting better at working the flock. There was still plenty to learn her, mind, particular when a ewe came loose from the rest—she didn't have the nous yet how to get it back, she'd more likely square up to it, teasing, shaping to spring toward it then flumping to the ground, until the ewe was all aflunters and it tore off otherways from the pen."
Sam is more than the sum of his language. For all his oddity, and the periodic glint of something jagged and sinister, he holds our attention, even as he slips closer to catastrophe—holds our attention, and our affection, too.
JACK PENDARVIS' Awesome (MacAdam/Cage, $18) is a shaggy dog story of a novel, unconstrained and wonderfully inventive, starring a preternaturally self-satisfied giant called Awesome who pines for his downstairs neighbor, Glorious Jones. Pretty much anything is possible in Awesome's surreal world—if you can imagine it, he's willing to give it a try. Here, for example, a momentarily despondent Awesome, languishing in the Grand Canyon, decides to turn himself into "a large rock formation":
"I knew I was doing the right thing, trying to turn into a mountain. And I knew that I would make a special and awesome mountain because, unlike the other mountains, I would be a mountain by choice."
Alas, Awesome finds his mind "unwilling to attain the proper state of petrifaction"—stasis may be the only trick Mr. Pendarvis can't pull off.