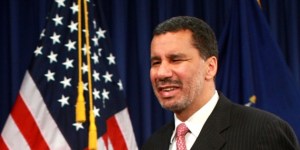 After delivering a live televised speech tonight about the state economy, David Paterson will hold a press conference Wednesday morning to offer specifics about his plans to help close the multibillion-dollar budget gap.
Then Paterson will take his case to the National Press Club in Washington, D.C.
According to the web site:
"Governor Paterson will visit Washington D.C. and the National Press Club as the nation is suffering from the effects of the subprime mortgage crisis and increasing energy prices – topics the governor will likely address during his speech and the question-and-answer session that will follow."