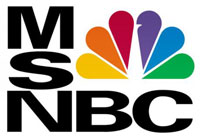 NBC News executives today named Phil Griffin president of MSNBC. Previously, Mr. Griffin had been a senior vice president of NBC News in charge of managing the cable news network. What has changed besides his title? According to the press release, Mr. Griffin will now "take over all day-to-day managment issues at MSNBC."
Last month in a profile in the New Yorker, Keith Olbermann famously said of Mr. Griffin, "Phil thinks he's my boss."
No word yet as to whether Mr. Olbermann is impressed by his so-called boss' new title.
More from the release:
"I've been there from the beginning, so I couldn't be happier to get this position," said Griffin. "It's a really exciting time at MSNBC and everyone – on the air and behind the scenes — has pulled together to help create the success we've had this year. We've really found our voice as 'The Place for Politics.' I really believe this is our time."
Phil Alongi will remain as executive producer of NBC News Specials, reporting to Griffin. In that capacity, Alongi also oversees all of NBC News' political coverage.
Griffin was named Senior Vice President at NBC News with oversight responsibility for America's number-one morning program, "Today," in April 2005. A year later he added oversight of MSNBC to his responsibilities. Prior to that, he was vice president of primetime programming for MSNBC, overseeing all primetime programming for the network including "The Abrams Report," "Hardball with Chris Matthews," "Countdown with Keith Olbermann," and "Scarborough Country."
Griffin has been with MSNBC since its launch in July 1996. He has produced several programs for the cable network including "Hardball with Chris Matthews" from 1999-2004. At MSNBC's launch, Griffin produced "Internight," hosted by Tom Brokaw, Katie Couric, Bryant Gumbel, Bob Costas and Bill Moyers featuring newsmakers, artists and authors. Griffin also produced "The Big Show with Keith Olbermann" from 1997-98.
Prior to becoming an executive producer at MSNBC, Griffin was the senior broadcast producer of NBC News' "Nightly News with Tom Brokaw" since 1992, where he oversaw domestic stories on a daily basis. Griffin traveled extensively with Brokaw on major breaking news events to Somalia, Moscow and the Middle East.
In 1995, Griffin went to Los Angeles to head up NBC News' coverage of the O.J. Simpson Trial. Prior to that, he was the American Close-Up segment producer for "Nightly News" beginning in 1991. From 1988-1991, Griffin was a writer/producer for "Today," where he covered stories including the Persian Gulf War, the San Francisco earthquake and the invasion of Panama. This marked Griffin's return to "Today," where he worked from 1983-1987 as a writer/producer. Griffin left "Today" in 1987 to join "USA Today: The Television Show" as senior producer until 1988. He began his career at CNN in 1980, where he was a producer for three years.
Griffin is a graduate of Vassar College, with a B.A. in English. He and his wife Kory Apton reside in Manhattan with their two children.